Wow! Amanda Seyfried Tells Letterman: 'Yeah, I'm Pretty Drunk' During Interview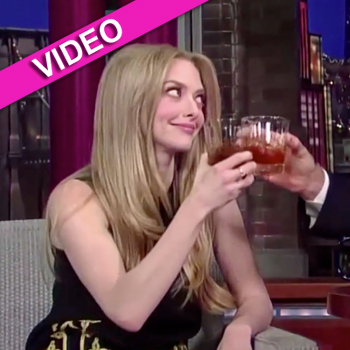 Actress Amanda Seyfried -- saying she needs some "liquid courage" before appearing on talks shows to fight off stage fright -- appeared toasted on Late Show with David Letterman Tuesday, and RadarOnline.com has the tipsy-turvy clip.
Seyfried -- whose new movie Les Miserables opens in theaters on Christmas Day -- told Letterman "yeah, I'm pretty drunk" when he said he had heard she threw back a few cocktails prior to her appearance.
Article continues below advertisement
As the audience chuckled, the lovely actress, 27, revealed she had enjoyed three drinks before the interview, adding "I'm a big fan of whiskey." She then added, "your lovely colleagues here had some Jameson waiting for me."
"I understand that I have a problem, maybe," Seyfried – who, at times, seemed to be having trouble choosing her words -- said of her habit. "But you know what? It really gets me through."
When Letterman asked if some day she might find herself in a program, Seyfried replied, "I think one day I'm going to have to learn to live without it."
Letterman capped off the interview with a nightcap -- bringing out Seyfried's choice drink, whiskey, and had a swig with her.
Late Show with David Letterman airs weeknights at 11:35 p.m. EST on CBS.
RELATED STORIES:
Les Miserables, Not! Stunning Anne Hathaway Wows In Floral Dress