Exclusive
Sorry Johnny, But Amber's Just Not That Into You! Depp's Infatuated But Heard Couldn't Care Less!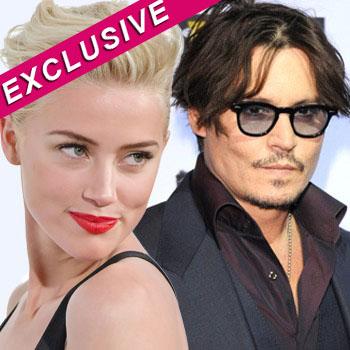 Article continues below advertisement
Depp, 49, is besotted with the 26-year-old actress and would love nothing more than to take things to the next level, but Heard has been keeping him at arm's length, telling him she could never settle down full time with a guy and that her preference is for girls!
"Johnny and Amber have been having a lot of fun spending time with one another, but Amber keeps telling him she's not interested in being with him in a monogamous relationship," a source tells RadarOnline.com.
"She says she feels she's too young for him, but the main factor is Amber prefers dating women over men and has no interest in committing to a guy -- even if he is Johnny Depp!
"Amber is a free spirit when it comes to love, and refuses to label herself as gay, or even bi-sexual, but it's a fact that she is more attracted to women than men and the most meaningful relationships she has had to date have been with same sex partners.
Article continues below advertisement
"Johnny and Amber get along great as friends with benefits, but where she's concerned, that's as far as it goes.
"Johnny really wants more from Amber, but she's not prepared to give him that. In addition to him being the wrong sex, she's concentrating on her career at the moment and only recently got out of a long-term relationship.
"Amber has even been trying to limit her interaction with Johnny, in an effort to not give him the wrong idea, but he doesn't seem to get the hint.
"She considers him like an older brother that she can get up to mischief with – nothing more," the source reveals.
As RadarOnline.com previously reported, US Weekly recently claimed that Amber has been telling friends she is serious about Johnny.
"They were flirty and engaged," an eyewitness, who saw the couple at Hollywood's AV Nightclub back in November, told the magazine.
A second source said that at a Gucci party in October, Amber was "telling people they were officially together."
Article continues below advertisement