Amber Heard Shares A Post Dinner PDA With A Girlfriend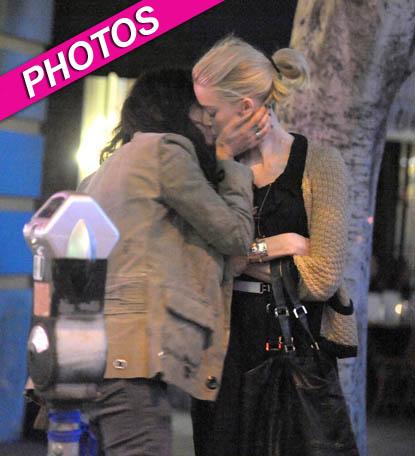 She's been open about her sexual open mindedness and now Amber Heard has been spotted expressing her affection for a girlfriend for all to see, and RadarOnline.com has photos of the couple's post dinner PDA.
Almost a year after announcing at the GLAAD 25th anniversary celebration that she was dating a woman, The Rum Diary star shared a romantic public kiss on Wednesday night.
Heard and a brunette girlfriend enjoyed dinner at Figaro Cafe in the Los Feliz neighborhood of L.A. and then had a touching farewell on the sidewalk outside the trendy eatery.
Article continues below advertisement
The couple was reportedly flirting playfully before they kissed deeply, with the dark-haired woman affectionately cradling blonde Amber's face.
As RadarOnline.com previously reported, the stunning 25-year-old actress went public with her lady love last December and told the website Afterellen.com that she made the bold move after acknowledging her role in the media.
"I had to ask myself an important question, 'Am I part of the problem?' And I think that when millions and millions of hard-working, tax paying Americans are denied their rights and denied their equality you have to ask yourself what are the factors that are an epidemic problem and that's what this is," said the Austin, Texas native.
"I think GLAAD is one of the many reasons that I, as a 24-year-old, can come out," she revealed.
For several years, her romantic partner has been photographer Tasya van Ree, of whom she said, "She's so beautiful. I mean, you'd have to be crazy not to want to go out with her!"
It's difficult to tell though from the lighting in Wednesday's pics if the lucky lady locking lips with Heard is Tasya, if not, she may have some explaining to do!