Johnny Depp Says It Was Love At First Sight With Vanessa Paradis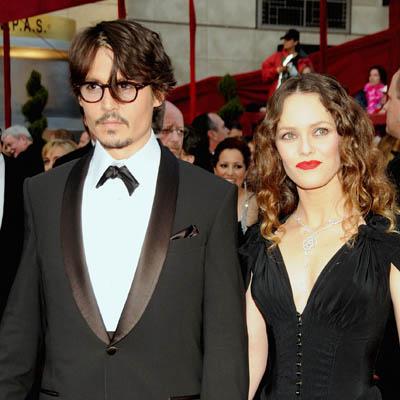 With verbiage as vivid and deep as the seven seas, A-list pirate Johnny Depp describes the magic moment he met his future partner -- and mother of his two kids -- Vanessa Paradis.
Depp, 48, told the BBC about the instance back in 1998 when he laid his eyes on the beauty at France's Hotel Costes. (He was there filming Roman Polanski's The Ninth Gate.)
He said of Paradis: "She was wearing a dress with an exposed back and I saw that back and that neck, and then she turned around and I saw those eyes, and -- boom! -- my life as a single man was done.
Article continues below advertisement
"You have this feeling," he said. "I can't really explain what it was, but I had it when I met her. I saw her across a room and thought, 'What's happening to me?'"
He said the two met through a mutual acquaintance, and the rest is history.
Depp -- who dated Winona Ryder, Jennifer Grey and Kate Moss prior to finding his paradise with Paradis -- said the relationship and her clean-living ways finally helped him beat a long-time battle with the bottle, though he slightly indulges every so often to reflect.
"A glass or two of wine before dinner is my favorite thing, watching the sunset and the kiddies playing nearby," he said. "It's perfection."
As RadarOnline.com previously reported, Paradis has also opened up about her and Johnny's relationship in the past, revealing that the two, are as "one."
"I like him very much in all terms and every sense of the way," Paradis said. "He makes me happy. We are many things – we are together and, in a way, one person."
Article continues below advertisement
But, despite their perfect relationship, don't expect these two to walk down the aisle anytime soon.
The critically acclaimed actor revealed to Extra why they haven't tied the knot.
"I never found myself needing that piece of paper," Depp confessed. "Marriage is really from soul to soul, heart to heart. You don't need somebody to say, okay you're married... If Vanessa wanted to get hitched, why not... But the thing is, I'd be so scared of ruining her last name. She's got such a good last name."