Who Is Amber Heard? 7 Things You Didn't Know About The Rum Diary Star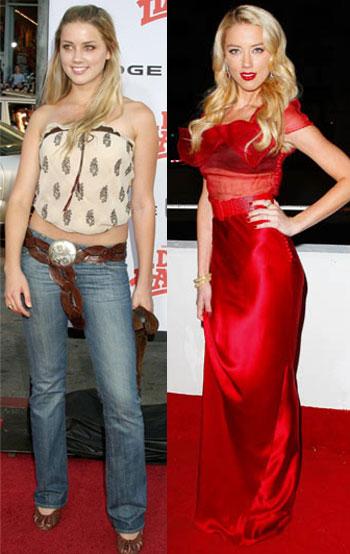 The white-hot 25-year-old star of The Rum Diary has a string of hit movies on her resume, but still many people aren't familiar with sexy Amber Heard.
With her biggest film-to-date hitting the movie theaters on Friday, RadarOnline.com reveals seven things you didn't know about Johnny Depp's latest drop dead gorgeous co-star.
7. She's a dream-chaser: Amber was born and raised to a contractor dad and government worker mom. She was raised in a strict Catholic family, but dropped out of school in her junior year at 17 to move to New York City and try her hand at modeling. After growing dissuaded with modeling, she moved out to Los Angeles to pursue a career in acting. She said, "My father persuaded me to take classes, and my first agent in Austin paid for them. I'd always wanted to be an actress. I did it in high school and fell in love with it, but I was distracted by the modeling industry because I wanted to travel and get out of my hometown. It was the easier ticket."
Article continues below advertisement
6. Not all of her acting parts have been surefire winners: While the role opposite Depp looks like an elevator to the A-list, Heard's last project was the ill-fated NBC prime-time bust The Playboy Club, which was axed after just three episodes in the fall of 2011.
5. She's an atheist: When she attended high school at St. Michael's Catholic Academy, one of her best friends died in a car crash. Heard subsequently said she didn't believe in God, as she was heavily influenced by the writings of Ayn Rand and George Orwell.
4. She's the proud owner of a golden teacup Yorkie: Heard brought her cute dog Pistol (more on why she chose that name later) along to her photo shoot for Teen Vogue's Young Hollywood issue in October 2009.
3. She's smokin' -- literally: The Austin, Texas native says she grew up around guns, and is the proud owner of a .357 Magnum. "I'm a good shot and I love guns -- I own several," she said. "I don't have children in the house, so I sleep with my gun in a place that's close enough that if I needed to protect myself, I could. It's not in bed with me, though; it's in a safe location. I'm fully trained and I'm an active member of a gun club. I'm definitely pro-gun."
MORE ON:
Scarlett Johansson
Article continues below advertisement
2. She's open about her sexuality: Heard in late 2010 told the crowd at GLAAD's 25th anniversary celebration she's dating a woman. She told the website Afterellen.com that for several years, her romantic partner has been photographer Tasya van Ree, of whom she said, "She's so beautiful. I mean, you'd have to be crazy not to want to go out with her!" The stunning star has also dated men, and has not labeled herself into any sexual stereotype.
1. She beat out a few A-listers to get the The Rum Diary gig: Heard was reportedly chosen over a pair of top actresses -- Scarlett Johansson and Keira Knightley, specifically -- to star opposite Depp in the highly-anticipated film.
The Rum Diary hits theaters Friday.
RELATED STORIES:
Johnny Depp Apologizes For Comparing Photo Shoots To Being Raped: 'I Am Truly Sorry'
Johnny Depp Comparing Photo Shoots To Being Raped Angers Advocacy Group