Johnny Depp Got Tattooed & Visited Disneyland With West Memphis Three's Damien Echols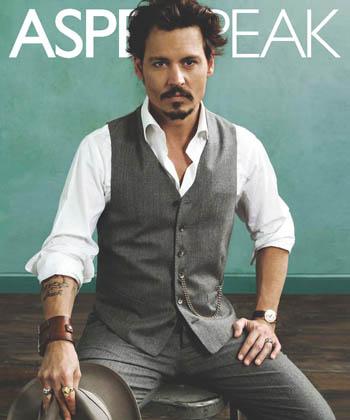 Johnny Depp is featured on the Winter issue cover of Aspen Peak magazine, where the star opens up about everything from his relationship with his late friend and author of The Rum Diary, Hunter S. Thompson, to his obsession with body art – and going to get inked with West Memphis Three's Damien Echols.
"I consider tattoos my diary," Depp explains about his permanent collection of body art.
Article continues below advertisement
"I received my first tattoo as a teenager. My skin is a record of my life. Recently, right before coming to Austin, I went to Disneyland with Damien (Echols) of the West Memphis Three. He had just gotten out of jail. He wanted to see Disneyland so I took him. Afterwards we went and got tattoos together. That's my way of documenting things in my life."
Depp, who forged a friendship with the late Hunter S. Thompson in 1994, reveals that the author's suicide in 2005 was a big blow to him.
"He had become like a father figure or best friend or something very special. I loved Hunter very much. Thought about him every day, sometimes every hour -- still do."
Depp also admits that making The Rum Diary was fulfilling a promise to Thompson, and that he felt the presence of his old friend during the film's production.
"What a wild time I had in San Juan. Hunter's spirit was with us every minute. We visited all his old haunts. We had a picture of Hunter on a chair along with a bottle of Chivas Regal. We channeled him."