Exclusive
He Did What? The Story Behind Jenelle Evans Hubby's Pre-Wedding Felony Charge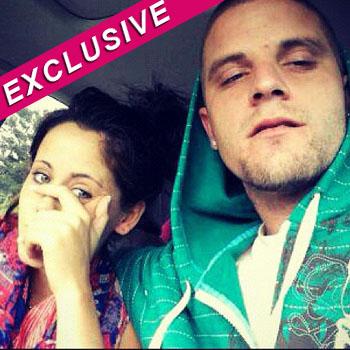 Article continues below advertisement
"Courtland is accused of taking a gift card back to a store and attempting cash it in, but according to the store the gift card was never purchased so that raised a red flag," a source with knowledge of the situation exclusively tells RadarOnline.com.
As we previously reported, an eyewitness told RadarOnline.com that while in court, both Jenelle and Courtland's appearances
were concerning.
"Jenelle looks like sh*t," the eyewitness said. "She has lost about 30 pounds, and she looks terrible.
"Courtland was picking scabs on his face while he was in the court and his face was starting to bleed."
A second source close to the 20-year-old MTV star confirmed that her family is fearful that she's using drugs again.
"Everyone is worried about Jenelle," the source said. "And her appearance and actions on Tuesday did nothing to quell the concerns."
Jenelle's quickie wedding surprised her family -- while one source close to her expressed concern that she may have married Courtland for the wrong reasons.
Article continues below advertisement