Exclusive
Why Halle Berry Was So Keen To Move To France: Olivier Martinez Doesn't Want To Live In U.S. Anymore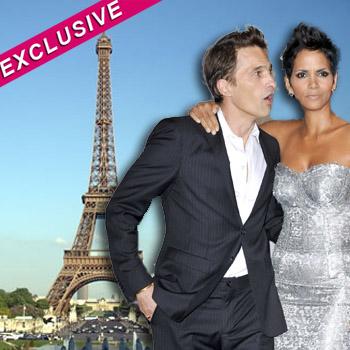 By Jen Heger - RadarOnline.com Assistant Managing Editor
Halle Berry wanted to move to France with four-year-old daughter, Nahla, because her French-born fiance, Olivier Martinez, no longer wants to live in the U.S. and is desperate to return home, RadarOnline.com is exclusively reporting.
"The main reason that Halle wanted to uproot Nahla from Southern California, where her father, Gabriel Aubry, currently lives, is because Olivier doesn't want America to be his primary residence anymore," a source close to the situation tells RadarOnline.com. "Olivier's family and friends all live in France and he is desperate to move back there. Yes, Halle did like the fact that France has strict privacy laws that govern the press, but that wasn't the reason for the proposed move. The judge overseeing the custody dispute between Halle and Gabe didn't think it was in Nahla's best interest for her to be moved halfway around the world to a foreign country, mainly because contact with her father would have drastically cut."
Article continues below advertisement
As RadarOnline.com previously reported, Martinez and Aubry were involved in a brutal Thanksgiving brawl after Gabriel dropped off Nahla at Berry's home.
According to a sworn declaration filed by Aubry as part of his application for a temporary restraining order against Martinez, Olivier was extremely angry at Gabriel before the fight started, as he blames him for Halle not being granted the right to move with Nahla to France.
"While he (Olivier Martinez) was attacking me physically, Mr. Martinez said to me in an aggressive and threatening voice, 'you cost us 3 million dollars. When you see the judge, you're going to tell him you're going to Paris or I'm going to kill you. You're going to Paris, you're going to get your 20 grand a month in child support…." Aubry claims in his sworn declaration.
A week after the violent tussle, Aubry and Berry hammered out a confidential settlement that included specific language about how none of the parties - Halle, Gabe or Olivier - would pursue criminal charges against another. All sides managed to agree to satisfactory terms with the focus being on ending the mayhem for the sake of Nahla.
Article continues below advertisement
Aubry and Berry now share custody and neither party is allowed to move out of Los Angeles County with Nahla without explicit permission from the judge.
Berry's rep had no comment on RadarOnline.com's story.
RELATED STORIES:
What Drama? Halle Berry All Smiles With Daughter Nahla
Olivier Martinez Drops Criminal Complaint Against Gabriel Aubry For Brutal Thanksgiving Brawl
Reunited And It Feels So Good! Gabriel Aubry Sees Nahla For First Time Since Thanksgiving Brawl