Halle Berry Security Cameras Captured Aubry-Martinez Fight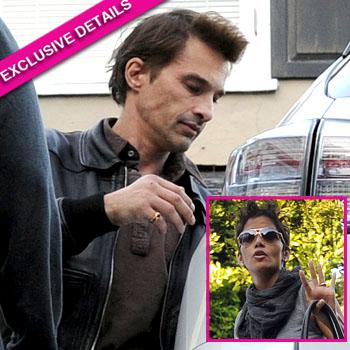 Security cameras captured much of the action in the brutal fight between Gabriel Aubry and Olivier Martinez, a source close to the situation tells RadarOnline.com exclusively.
The video hasn't yet been turned over to LAPD but Gabriel Aubry is anxious for that to happen fast.
Halle Berry's ex-boyfriend and the father of her child has told pals the video will prove Olivier Martinez started the brawl, and he only acted in self defense.
Article continues below advertisement
As RadarOnline.com previously reported, Aubry and Halle's fiancé Martinez got into a knock-down, drag-out fight Thanksgiving morning.
Aubry was dropping his and Halle's daughter, Nahla, off to spend Thanksgiving with her mother when the two men got into it.
"Officers responded to a a radio call at about 10 am," the LAPD Hollywood Division Watch Commander told us.
After cops broke up the brawl, Aubry was transported to Cedars-Sinai Medical Center. He reportedly suffered a broken rib and cuts to his face, was treated and released to the police. Martinez also ended up going to the hospital with a possible broken hand.