Halle Berry & Gabriel Aubry Have Hashed Out An 'Amicable Agreement' Over Thanksgiving Beat Down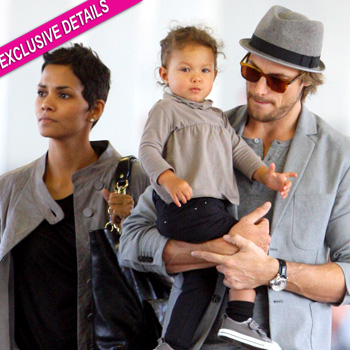 By Jen Heger - Radar Assistant Managing Editor
Halle Berry and Gabriel Aubry have reached "an amicable agreement" over the legal quagmire that was caused by the brutal Thanksgiving beat down between the Canadian model and the actress' fiance, Olivier Martinez, RadarOnline.com is reporting.
Aubry was in court Thursday afternoon with his attorney Shawn Holley, and Berry's lawyer, Blair Berk, released a statement following the hearing which had been scheduled to determine if Berry would try and extend the protective order that had been granted against Aubry, requiring him to stay 100 feet away from her, their daughter Nahla, and Martinez.
Article continues below advertisement
"The parties reached an amicable agreement. There will be no further statements regarding this matter," Berk and Holley announced in a handwritten joint statement.
According to sources connected to the case: "Olivier will NOT be present in the future during the times that Nahla is dropped off and picked up between Gabriel and Halle. This was very important to Gabe going forward because he feared for his safety. Gabe was supposed to have Nahla on Thanksgiving, according to their custody agreement, but Halle asked if she could have the little girl that day and Gabe said yes. He had no obligation to do so, but he had been acting in good faith and knew it meant a lot to Halle, so he did it. Gabe was absolutely blindsided by Olivier and his rage."
As RadarOnline.com previously reported, Gabriel, 36, got into a brutal fight with Olivier, 46, over the Thanksgiving holiday, leaving him hospitalized and arrested on suspicion of misdemeanor battery.
On Monday, Aubry got a temporary restraining order against Olivier, a former boxer, who allegedly threatened to kill the model!
It's likely that Gabe won't proceed with making the temporary restraining order against Martinez permanent because of the agreement.
Story developing....
RELATED STORIES:
How The DA Could Help Gabriel Aubry Avoid Criminal Charges!
Gabriel Aubry Wants Criminal Charges Brought Against Olivier Martinez For Brutal Thanksgiving Beat Down
Gabriel Aubry Asked Cops To Secure Surveillance Tape Before It Was Destroyed Following Brutal Beat Down, Court Docs State
Detectives Show Up To Interview Halle Berry & Olivier Martinez In Wake Of Brutal Fight