Exclusive
How The DA Could Help Gabriel Aubry Avoid Criminal Charges!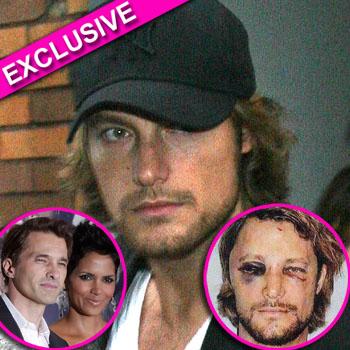 By Jen Heger - Radar Assistant Managing Editor
The Los Angeles District Attorney's Office could actually help Gabriel Aubry's defense if he is criminally charged for allegedly assaulting his ex-girlfriend, and baby mama, Halle Berry's fiance, Olivier Martinez, or even avoid criminal charges altogether, RadarOnline.com is exclusively reporting.
When Halle Berry's stalker, Richard Franco, was arrested in 2011, the Academy Award winning actress turned over "extensive surveillance video that showed him jumping over the fence and into her driveway. There were at least five different cameras used and the footage, which has never been publicly shown, is still in possession of the District Attorney's office. At least one of the cameras was positioned inside the driveway in 2011," a source close to the case tells us.
Article continues below advertisement
The surveillance video of Halle's stalker could be critical evidence to support Aubry's concern that he allegedly expressed to cops during his arrest in the driveway on Thanksgiving after getting into an altercation with Martinez was going to be destroyed or edited. Reports surfaced on Tuesday night that surveillance video of the fight between Gabe and Olivier didn't exist because Berry had been advised to point the cameras towards the street in order to identify the alleged stalker hopping the privacy wall.
RadarOnline.com was first to report on the existence of the footage, which was captured on Berry's security cameras at her property, and Aubry references it in his application for a restraining order against Martinez, which was granted on Monday.
"I told the officers that Martinez was the one who attacked me, and repeatedly told them to get the security tapes from Ms. Berry's security cameras before she and Mr. Martinez deleted them. During the time that I resided with Ms. Berry at the Doheny residence, I observed she had at least three cameras in the driveway, and front door areas and two in the front gate area," the Canadian born model writes in his sworn declaration
Article continues below advertisement
Aubry hasn't been formally charged with any crime, but if he is, his famed attorney, Shawn Holley, "will certainly grill Halle Berry on the stand about how, when and why she changed her security cameras. Halle is someone that takes her personal safety very, very seriously given the threats she has had over the years, and the idea that there were no security cameras in the driveway that would have captured the fight is puzzling. Gabe's attorney would absolutely want to review the security video that captured Halle's stalker and this could be very, very helpful to Gabe's case, if charges are filed against him. This could also be the thing that could exonerate Gabe because it's one persons story against anothers, and Gabe didn't have any scratches or marks on his hands. Just look at the injuries Gabe suffered, he had the crap beaten out of him by Olivier. Olivier has wounds to his hands because he hit Gabe," the source says.