Gabriel Aubry Sports A Black Eye After Thanksgiving Day Fight With Halle Berry's Boyfriend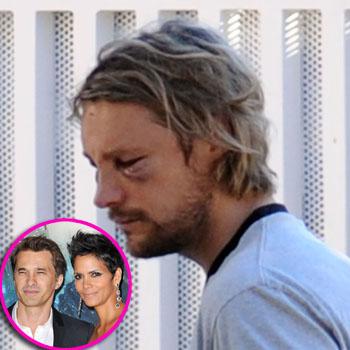 Article continues below advertisement
Martinez, 46, was snapped Saturday with bandages around his hand from the incident, after which Aubry was arrested on suspicion of misdemeanor battery, posted a $20,000 bond and given a December 13 court date.
The high-profile incident has caught the attention of the L.A. County Department of Child Protective Services, who will re-open their abuse investigation into the toxic co-parenting situation between the French-Canadian hunk and the actress.
"Detectives from the LAPD formally contacted CPS after Gabe's arrest, because Nahla was present when the fight occurred," a source close to the situation tells RadarOnline.com exclusively. "Nahla wasn't actually involved in the melee, and by all accounts, Halle whisked her out of the driveway as soon as the fight between Olivier and Gabe started. However, DCFS was contacted because there has been a history of allegations of physical abuse.
Article continues below advertisement
"Social workers will be interviewing Halle, Gabriel and Olivier about what happened on Thanksgiving. DCFS must ensure that Nahla's environment is safe."
The source added that Aubry "is extremely concerned about his arrest and the fallout this could have on" his daughter.
"She is his entire world and is hopeful that once the truth comes out, he won't be formally charged with any crime."
Check back with RadarOnline.com for updates in this story.