Exclusive
Halle Berry's Daughter To Be Subject Of CPS Investigation Following Thanksgiving Brawl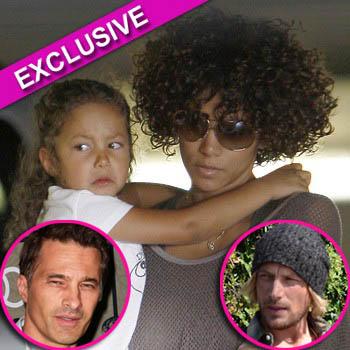 Article continues below advertisement
"Nahla wasn't actually involved in the melee, and by all accounts, Halle whisked her out of the driveway as soon as the fight between Olivier and Gabe started. However, DCFS was contacted because there has been a history of allegations of physical abuse. Social workers will be interviewing Halle, Gabriel and Olivier about what happened on Thanksgiving. DCFS must ensure that Nahla's environment is safe."
As we previously reported, while dropping Nahla off with Halle on Thanksgiving morning, Aubry got into a knock-down, drag-out brawl with Martinez.
The cops were called, and both men ended up getting treatment at Cedars-Sinai Medical Center in Los Angeles. Aubry was booked on suspicion of misdemeanor battery, posted a $20,000 bond and has a December 13 court date.
Meanwhile, Berry has reportedly gotten an emergency restraining order to keep Aubry away. The two have been in an ongoing child custody battle. Berry was recently shot down by a Los Angeles judge who ruled that she couldn't move with Nahla to France, because Gabriel lives in Southern California.
Article continues below advertisement
Earlier this year, Aubry was accused of shoving Halle's nanny while she was holding Nahla. The nanny filed a police report but the Los Angeles City Attorney failed to file charges against Aubry citing a lack of sufficient evidence.
"Gabriel is extremely concerned about his arrest and the fallout this could have on Nahla. She is his entire world and is hopeful that once the truth comes out, he won't be formally charged with any crime," the source says.