Halle Berry Takes Nahla To Kids Show After Big Aubry-Martinez Fight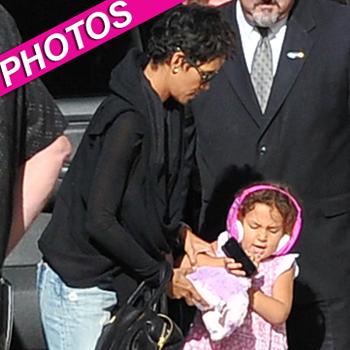 Halle Berry is trying to make it business as usual with her daughter, Nahla.
The day after Halle's ex and current boyfriends got into a brutal fight -- sending them both to the hospital -- Berry and Nahla took in the hugely popular kids show, Yo Gabba Gabba Live!, at L.A.'s Nokia Theatre Live.
As RadarOnline.com has been reporting, while dropping Nahla off with Halle on Thanksgiving morning, her dad, Gabriel Aubry, got into a knock-down, drag-out brawl with Halle's fiancé Olivier Martine.
Article continues below advertisement
The cops were called, and both men ended up getting treatment at Cedars-Sinai Medical Center.
Aubry was booked on suspicion of misdemeanor battery, posted a $20,000 bond and has a December 13 court date.
Martinez was spotted at a nearby liquor store at 8 am Friday.
Berry has reportedly gotten an emergency restraining order keeping Aubry away. The two have been in an ongoing child custody and child support battle.