Shocking Outbreaks Of Violence Fuel Fears Of Soccer Hooliganism Making A Resurgence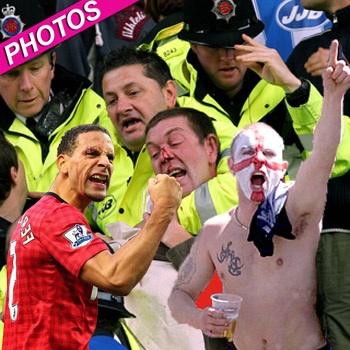 By Debbie Emery - RadarOnline.com Reporter
The sport of English soccer was once rife with graphic fan violence, racist abuse and bloody attacks both inside and outside of the stadiums, and many fear that the epidemic which haunted the 1980s and '90s may be making a much unwanted resurgence.
The bitter match-up between rival teams Manchester United and Manchester City last Sunday hightlighted fears over the comeback of soccer (known as football) hooliganism in the UK as local media described fan behavior as "spinning out of control" and "toxic," reported CNN.com, citing the return of what was dubbed the "English disease."
Article continues below advertisement
The action on the field ended with a 3-2 victory for United, but it was the non-sporting events that dominated the headlines of the day after Rio Ferdinand was hit in the face by a coin thrown by an angry fan as the Man U defender celebrated teammate Robin van Persie's injury-time winning goal.
While the former England international wiped the blood from his face, City goalkeeper Joe Hart intervened to confront a fan who had invaded the pitch, before police arrived on the pitch to haul him from the grounds.
"We condemn any such acts and it is simply unacceptable that any player is exposed to injury in this way. To witness Rio Ferdinand leaving the field with a cut above his eye to receive treatment is appalling," the English Football Association said in a statement following the incident.
Such a poor performance from supporters of two of the country's biggest clubs is not only embarrassing for the sport, but also an indicator of the return of the hooliganism that haunted a generation and led to every English team being banned from playing in Europe from 1985 to 1990 after 39 fans were killed and 600 injured in the European Cup Final match between Italy's Juventus and Britain's Liverpool in Heysel Stadium in Brussels.
Article continues below advertisement
The bloody culture of soccer thugs traveling across the country armed with knives, machetes and brass knuckles to beat-up rival fans outside the stadium without even going to the see the game has been captured by Hollywood in the Elijah Wood movie Green Street Hooligans and the critically-acclaimed, Football Factory.
Now critics believe that English soccer is facing a vital turning point and paying the high price of ignoring unacceptable actions both on and off the pitch for decades.