Egypt's Worst Soccer Riot Leaves 73 Dead, 1000 Injured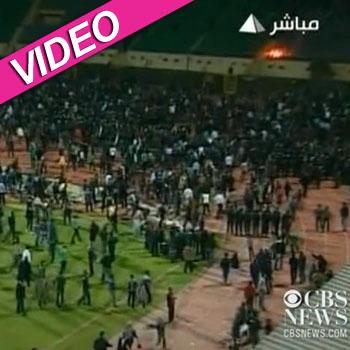 By Debbie Emery - Radar Reporter
A shockingly violent rampage at a soccer match in Egypt has left 73 people dead and more than 1,000 injured, and RadarOnline.com has disturbing video of the horrendous hooligan acts.
Impassioned fans of Al-Masry, the home team in Port Said, stormed the pitch after an unexpected 3-1 victory against Egypt's top team, Al-Ahly, on Wednesday, but their celebration quickly turned to bloodshed and death.
Article continues below advertisement
The jubilant supporters began throwing stones, bottles and sticks at the opposing fans, as well as the rival players, who can be seen rushing back to their locker room to escape the mayhem, reported CBSNews.com.
No one was safe from the crazed crowd as the coach for losing team Al-Ahly had to be rescued from a bloody beating, while police officers in black uniforms looked on, overwhelmed by the chaos.
Soccer riots plagued Great Britain and Europe in the 1980s and early 90s but since then strong sanctions have made the matches a safe place to be for fans.
Wednesday's resurgence of fighting is the worst incident of soccer violence in Egypt and the deadliest worldwide since 1996, when at least 78 people died and 180 others were injured in a stampede at a stadium in Guatemala City before a World Cup qualifying match between Guatemala and Costa Rica.
Article continues below advertisement
In a desperate effort to calm the area, Egypt's state prosecutor ordered an immediate investigation into the violence, and the Egypt Football Association ordered an indefinite suspension of the annual championship, while Parliament convened for an emergency session.
Sayed Hamdi, who plays for Al-Ahly, described the war zone that he witnessed to state TV, "It was an atmosphere of terrorism."
RELATED STORIES: