Exclusive
New Year, New Start! Basketball Wives Star Evelyn Lozada Celebrates Her 37th Birthday In Style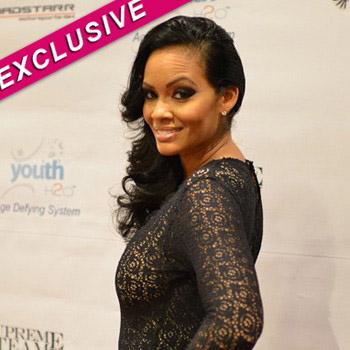 By Debbie Emery - RadarOnline.com Reporter
Basketball Wives star Evelyn Lozada is looking forward to what the future holds, and what better way to do it than by throwing a lavish birthday bash at a Hollywood hotspot!
The Miami, Florida native was in Los Angeles this week to launch her sexy collaboration with animal rights titans PETA for their 'I'd Rather Go Naked Than Wear Fur' ad campaign, and conveniently combined the trip with a party for all her West coast friends — and RadarOnline.com has exclusive photos and details of the blowout bash.
Article continues below advertisement
The reality star celebrated both her 37th birthday and PETA launch by rolling up on Tuesday night at The Supper Club on Hollywood Boulevard in a brand new Rolls Royce Ghost provided by RoadStarr, before she made her way elegantly down the crowded red carpet.
Beautiful Cirque Du Soleil inspired aerialists gracefully came down from the ceiling to serve and deliver drinks at the event that was attended by Evelyn's closest friends and cast members, including Shaunie O'Neal, Tasha Marbury and Suzie Ketchum from VH1's Basketball Wives.
The fun night out was sponsored by youthH2O, an age defying solution shot, and the crowd was served their scrumptious signature, 'Youthtini,' the drink of choice for the night. Event planners Supreme Team brought an electric atmosphere to the swanky Supper Club, that included wall to wall images of Evelyn's PETA campaign and youthH2O logo.
Earlier in the day, Evelyn exclusively told RadarOnline.com why she was so keen to bare all for PETA. "I've always wanted to pose nude, I felt like this was something I could look back on when I am 70, and be like: 'Remember what you had!" she revealed.
Article continues below advertisement
As for the controversial topic of the anti-fur farm campaign, "I love fashion, I loved fur, I thought it was fabulous, but when I saw the PETA video it totally changed my outlook on everything and it is so embedded in my brain. If I can be a voice and just change one person's mind, then that is great," she vowed, revealing how she has given away $40,000 worth of clothes since her epiphany.
"I look pretty fabulous even when I'm not wearing fur! I just have a different view about it now," said Evelyn.