Exclusive
Michael Lohan Says Dina Is 'Delusional' For Trying To Connect Lindsay's Alleged Victim To Him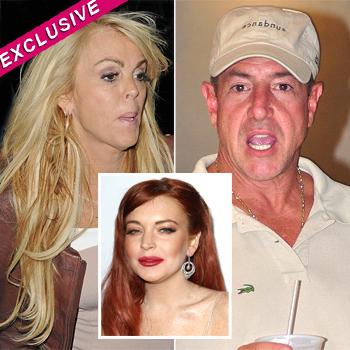 Article continues below advertisement
"I am increasingly disturbed to be told Ms. Allred's new client lives in Palm Beach just minutes from my ex-husband's home," Dina told RadarOnline.com on Friday.
And that comment drew an immediate and strong retort from Michael.
"Dina's comments are delusional and just go to show the lengths she'll go to divide me from my children and pollute their minds," he told RadarOnline.com.
"The public can see right through her. It's a really sad situation when a mother doesn't join hands with a father to help their daughter instead of
making up stories about him."
Michael told RadarOnline.com that he's never met Mitchell and for Dina to imply any type of connection was destructive and maddening as he tries to help Lindsay.
Lindsay, 26, was arrested for allegedly punching Mitchell in the face in a New York club.
Michael has consistently said that Lindsay needs help before it's too late and has gone public with his pleas for Dina to join forces with him for Lindsay's sake.