Exclusive
Demi Moore's Friends Scared Of Relapse As She Faces Another 'Sad & Lonely' Holidays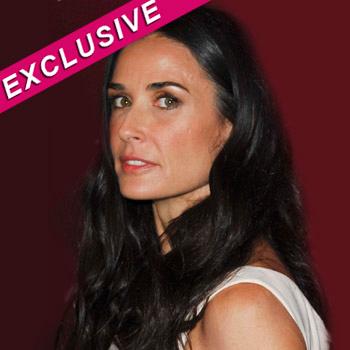 As Demi Moore faces another "sad and lonely" holidays on her own, friends of the 50-year-old actress fear that she is going to relapse and end up back in rehab - or suffer an even worse fate - RadarOnline.com is exclusively reporting.
As previously reported, Demi checked into rehab shortly after last year's Holidays, seeking treatment for her eating disorder and substance abuse issues. And, despite initially thriving after treatment, she has been on an apparent downward spiral over the past few months.
Article continues below advertisement
Demi has been feeling increasingly alone and depressed as the Holidays approach, a source tells RadarOnline.com, and after flying to Germany to attend a showing of her friend Andreas Gursky's photos, she is seriously considering staying in Europe for an extended time rather than being alone in the States.
As RadarOnline.com previously reported, despite reconciling with her three daughters, Rumer, Tallulah and Scout have once again turned their backs on their mother, disappointed by her continued failure to turn her life around. And as a result, Demi has been spending many lonely days and nights on her own.
"The girls want Demi to pull herself together, act her age and stop carrying on like some teenage party girl," the source says. "But Demi just refuses to give up the lifestyle that once made her happy, even though it now just amplifies her loneliness.
"She's determined to find young love again and is at a loss as to why she is still single. On top of having no love life, her daughters have once again turned their backs on her — she just feels so alone, and that feeling is made all the worse as Christmas approaches.
Article continues below advertisement
"Demi's ex-husband Bruce Willis will be spending Christmas with his wife and their new baby, then obviously there's the whole Ashton Mila situation.
"Demi feels so alone in the world," explains the source. "Her mom and step dad are both dead… and although she has three step siblings - she hasn't spoken to them in 30 years! And her half brother James is in jail for 10 years for assaulting his girlfriend so there is no one for her to spend the holidays with. It's going to be another sad and lonely time for Demi.