Camille Grammer Hits Below The Belt, Makes 'Size' Joke About Kelsey!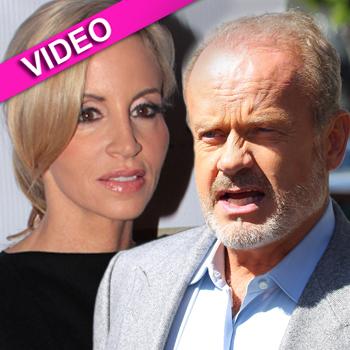 The war between Kelsey Grammer and his ex-wife Camille keeps getting uglier and uglier, as the estranged couple continue to fire hurtful quips at one another whenever there's a camera around.
On Monday's edition of The Real Housewives of Beverly Hills, Camille took multiple shots at Kelsey's manhood, comparing it to that of her current boyfriend Dimitri Charalambopoulos, and we've got the clip for you right here on RadarOnline.com.
Article continues below advertisement
Camille -- now a part-time player on the Bravo show -- boasted that Dimitri is a skilled cook and "a compassionate soul," before adding in an off-camera chat that the difference between the Greek hunk and Kelsey is "eight inches." (And in fairness to Kelsey, five Emmys!)
As if Brandi Glanville didn't have enough rich, famous and prideful enemies, she took a shot at Kelsey for good measure, saying that she was happy for Camille's romance with Dimitri because "anyone is better than Kelsey."
Watch the video on RadarOnline.com
In a subsequent appearance on Watch What Happens Live!, master pot-stirrer Andy Cohen asked Camille if Kelsey had sone "anything dickish lately we haven't heard about," opening the floodgates for another bashing session of the egocentric actor.
Camille said that things are still ice cold between them in their ongoing custody dispute, noting that Kelsey is currently forbidding her from dropping off their kids face-to-face, and refuses to be anywhere around her.
Article continues below advertisement
Asked about Kelsey's controversial move in taking his 3-month-old daughter Faith to a Playboy mansion party, she commented, "I would have never done that," and when asked about his new wife Kayte Walsh, she said, "I won't even go there."
Camille also backtracked on the eight-inch comment -- saying she was actually referring to Dimitri's height in comparison to Kelsey's -- as "when he wears his cowboy boots, he's eight inches taller!" (Good try, Camille!)