'My Children Can't Say My Name In Their Father's House,' Says Camille Grammer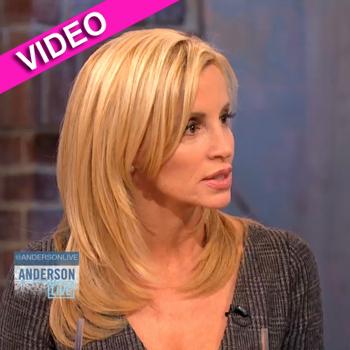 Article continues below advertisement
"He doesn't speak to me at all. So it's very, very difficult because I've reached out to him. I think it's very important to be amicable to raise children and he refuses too. There's just so much I can do at this point," said the reality star sadly.
The former Playboy model and the Frasier star had two children together, Mason Olivia, 11, and Jude Gordon, 8, both were born to a surrogate mother.
Rather than talk voice-to-voice, the feuding couple communicate through lawyers. "So we are spending a fortune just to try to co-parent, which is ridiculous," Camille, 44, told the Anderson Live host in an episode that airs on Tuesday.
"The kids at this point, which is kind of sad I found this out, that they are not allowed to same my name in the house," Grammer said. "So these poor kids, my daughter and my son can't say my name in their father's house.
"I think they can say mom or the other household but they can't say my name. They can't say Camille."
Naturally, Grammer said the cruel restriction by her children's father makes her feel "horrible… I call my lawyers and say, 'What's my recourse in this? What do I do as a parent?' because I feel bad for them. It must be stressful for them to not be able to say their mother's name, but there is no recourse because we already settled our custody," she explained.
Article continues below advertisement
As RadarOnline.com previously reported, Kelsey appeared on Anderson Live in September to tell his side of the high profile break-up story.
"I was trying to pretend things were normal for the sake of letting her have that moment. It was just ill advised," the former Fraiser star told Cooper when asked if he had any regrets about the scenes he was in on The Real Housewives of Beverly Hills before the couple suddenly split in July 2010.