Exclusive
Real BFFS! Jennifer Giminez Was Brandi's 'Rock' Through Messy Divorce, Kept Glanville Sane When She 'Started To Go Crazy'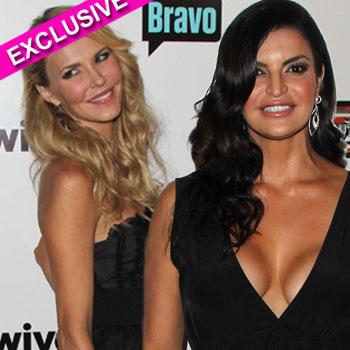 By Amber Goodhand - RadarOnline.com News Editor
Brandi Glanville is constantly at the center of controversy but through it all, The Real Housewives of Beverly Hills star exclusively tells RadarOnline.com there's one thing that keeps her sane and that's her best friend, Jennifer Gimenez.
Through a husband, a divorce, her children, Twitter wars, reality-TV, explosive feuds with her ex's new wife and terrifying medical scares, Brandi says Jennifer is the one who has always been by her side, so much so, that when Brandi attended therapy sessions with Eddie Cibrian and LeAnn Rimes, Jennifer sat in with her!
Article continues below advertisement
"Jennifer is like a family member to me. She's really been my rock through my divorce, through everything. When I went to therapy with Eddie and LeAnn, Jennifer sat in with me because she's my other half right now," Brandi told RadarOnline.com.
"I would do anything for her. We're just one big misfit family. I depend on her...I lean on her and I need her. She keeps me sane when I start to go crazy. She calls me out when I'm not right and she validates me when I need it."
And the feeling is mutual, because Jennifer tells RadarOnline.com that she would take a bullet for Brandi and literally owes her life to her.
"In my toughest, most darkest time, she and my mom threw me into treatment," Jennifer, who is now years into sobriety, said.
"If it wasn't for them, I doubt I would be alive today. I would take a bullet for her. People get the wrong idea about Brandi...she is a loving and caring woman, a great mother to her two boys...she LOVES her boys, and a great friend. She's very generous, supportive and truthful."
Article continues below advertisement
The two women have been best friends for 16 years, and Jennifer was even the first one to hold Brandi's nine-year-old son, Mason, when he was born.
"The negative stuff people say about Brandi, it's not true. If they knew Brandi like I do they wouldn't believe the bullish*t," Jennifer said.
"Jennifer's my voice of reason in so many ways. She lived with me for a year, and my boys love her. She's my best friend and almost like a therapist to me!" Brandi said.