Who's Barbara Walters' Pick For The Most Fascinating Person Of The Year?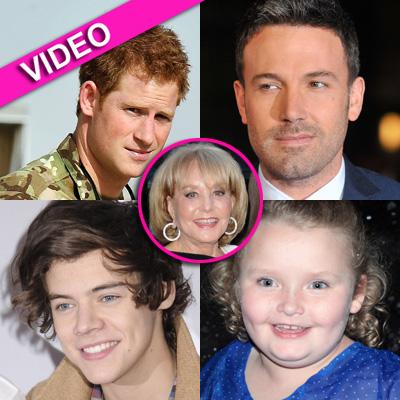 Article continues below advertisement
"He is, without question, one of the finest officers and military minds of his generation," Walters said during her annual special that aired Wednesday night on ABC. "Then shockingly, he resigned this fall as head of the CIA because he'd had an extramarital affair with Paula Broadwell, his biographer...The story was irresistible – the keeper of the nation's secrets unable to conceal his own."
Watch the video on RadarOnline.com
As usual, Walters's annual Ten Most Fascinating list featured an eclectic mix of people, including Secretary of State Hillary Clinton; New Jersey Governor Chris Christie; actor/director Ben Affleck, who's won critical praise for his political thriller Argo; Prince Harry, photographed in a naked Vegas romp; Olympic gold medalist Gabby Douglas; Family Guy creator (and upcoming host of the Oscars) Seth MacFarlane; British boy band One Direction; 50 Shades of Grey author E L James, and even reality TV sensation, Alana "Honey Boo Boo" Thompson.
Article continues below advertisement