Lindsay Lohan's Busy Night: Liz & Dick Premiere, Explains Barbara Walters Snub On Leno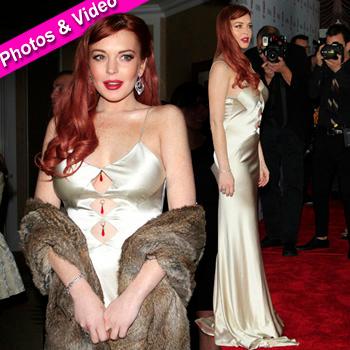 Article continues below advertisement
"So I heard," Lindsay, wearing a Dion Lee dress and Louboutins, told Leno. "It's just, the timing wasn't right, right now. I love her, and I'm a big fan of Barbara Walters."
"I met her when I was very young, and when it's right, she knows she'll be the first person I sit down with." (Actually Leno is the first person she sat down with.)
As we previously reported, an insider said that the actress didn't want to face questions "about all of the drama in her personal life.
"Barbara was going to ask her probing questions about her drug use, Dina Lohan's drug use, the intervention and Michael Lohan recording their phone call and the family's money issues…including the possible upcoming charges for lying to the cops after her car accident…and Lindsay isn't ready to talk about anything."
The actress told Leno she'll celebrate Thanksgiving in her native New York with her family.
Article continues below advertisement
"I love to cook," she said. "My brother and I usually take over the stuffing and the potatoes and yams and we do marshmallows on top."
At the premiere at the Beverly Hills Hotel, LiLo -- who showed up an hour later than scheduled -- wore a jeweled Donna Dashini ivory slip -- showing off some midriff -- and had her red hair parted in a classic style.
Liz & Dick airs Sunday, November 25 at 9/8c on Lifetime.