Bill O'Reilly Defends Lindsay Lohan, Blames Her Woes On Her 'Screwed Up Parents'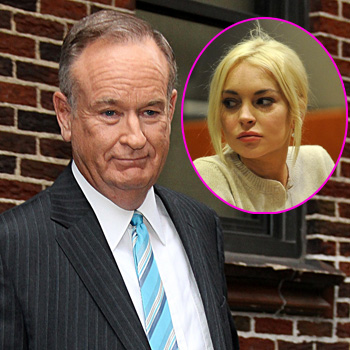 Outspoken Bill O'Reilly has blamed Lindsay Lohan's troubles on her "screwed up parents".
The controversial TV personality told Katie Couric on her talk show that he "feels bad for Lindsay" and said: "Lindsay Lohan is a Long Island girl, I think she's got screwed up parents ya know, I hope she straightens it out."
O'Reilly also spoke out about pageant sensation Honey Boo Boo, who is currently promoting her reality show Here Comes Honey Boo Boo.
Article continues below advertisement
He said to Katie about the six-year-old former Toddlers & Tiaras star: "I don't like to see kids in the public eye at that age."
O'Reilly, 63, joined Katie in the studio to discuss Tuesday's presidential debate and to give his opinion on various celebrities.
When asked what he thought about fellow outspoken Republican, Donald Trump, O'Reilly, said: "I went to the Yankee game with Trump the other day he is really an interesting guy.
"He knows a lot about a lot of things and he will tell you what he thinks, which I like."
He also called Clint Eastwood a "real solid, throwback guy" and said Kim Kardashian was an "energetic young woman."
When the pair moved on to politics, O'Reilly, who has penned 10 books, called Bill Clinton "brilliant."
When asked about First Lady Michelle Obama, he said: "You know, she was so nice to my daughter. Michelle Obama was so nice to my daughter and I just think she's a genuinely nice person."
Article continues below advertisement