Lindsay Lohan Had 'Liz & Dick' Producers Pay Her $46K Chateau Bill In Exchange For Barbara Walters Interview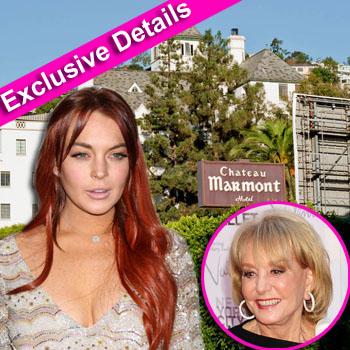 By Amber Goodhand - Radar News Editor
Lindsay Lohan will sit down for a one-on-one interview with Barbara Walters but the reason why she's agreed to do it is a whole other story and RadarOnline.com has exclusive details.
The embattled 26-year-old actress racked up a whopping $46,000 bill at the famed Chateau Marmont over a period of 47 days and was subsequently banned from the West Hollywood hotspot until she could pay up — which is where her Liz & Dick producers came into play.
Article continues below advertisement
According to The Daily, Lindsay would only agree to do the interview with Barbara and promote the Lifetime movie if the producers would pay her overdue hotel bill.
"Part of Lindsay's contract with the producers of Liz & Dick was that she was not to do any press to promote the movie before it aired," a source close to the actress exclusively told RadarOnline.com.
"But when Lindsay requested that production pick up her hotel bill, the producers said they'd be more than happy to pick up the tab, but in exchange Lindsay would have to agree to a sit-down interview to promote the movie."
The insider tells RadarOnline.com that Lindsay wasn't thrilled about having to do the tell-all interview, and there are no guidelines in regards to what Barbara can or cannot ask Lindsay.
"Lindsay wasn't happy about it, but realized that she was stuck and agreed to do it," the insider said.
"There will be no questions that are off limits and expect Walters to grill Lindsay about her personal life, recent arrest, and fight with her mother Dina."
Article continues below advertisement
And finally, even though Lindsay agreed to do the interview in exchange for producers to pay her Chateau bill, it was the production company that carefully chose Barbara Walters.
"The producers picked Walters for the interview, not Lindsay," the source said.
"The interview will be conducted with producers of the project present when Walters interviews Lindsay. Walters has agreed to delve into Lindsay's role as Liz Taylor, and not let the actresses personal life override the interview."