Lindsay Lohan's Chateau Marmont Meltdown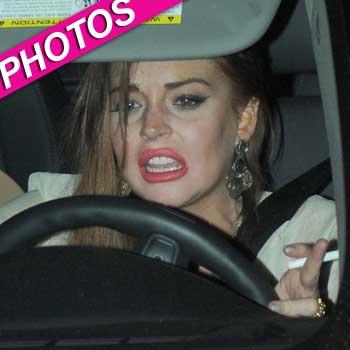 Look, no hands!
Like something from a circus act, Lindsay Lohan left the Chateau Marmont on Saturday night juggling a cigarette, her Porsche and a face of make-up fit for a clown.
The troubled young star looked upset as she left her favorite Hollywood hotspot under the cover of darkness.
In an attempt to cover her face, which she had plastered with bright red lipstick and heavy black eye liner, she took both hands off the wheel of her vehicle - a brave move considering her history of crashing cars.
Article continues below advertisement
Lindsay - who totaled a rented Porsche 911 just last month - clearly hasn't been deterred from getting behind the wheel of a car both on screen and off and took to Twitter to express her hopes at recreating the car crazy chick flick Thelma & Louise.
"Jennifer Lawrence in 'The Hunger Games' is genius," she posted on July 20. "I want to do Thelma&Louise w/her but ala Natural Born Killers (style wise) 2 girls-2 guys."