Bill O'Reilly's Book About Lincoln Assassination Banned Because Of 'Inaccuracies' And 'Mistakes'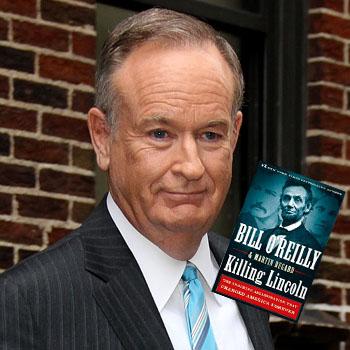 Bill O'Reilly's book about the assassination of Abraham Lincoln has been banned from the store at Ford's Theatre, the very place the President was killed!
Killing Lincoln is on several best seller lists but a number of historians have had a field day with the Fox News host's account of Lincoln's death, co-written by Marty Dugard.
Asks historian Edward Steers Jr.: "If the authors made mistakes in names, places, and events, what else did they get wrong? How can the reader rely on anything that appears in Killing Lincoln?" reports The Washington Post.
Article continues below advertisement
Some of the errors are minor. The book says Lincoln was attending the eighth performance of the play Our American Cousin when he was shot. It was the ninth. The farm of Samuel Mudd, the doctor who was convicted of conspiring in the assassination, was 217 acres, not 500 acres as the book claims. And Killing Lincoln has scenes with Lincoln in the Oval Office, which didn't even exist until 44 years after Lincoln's 1865 murder.
Some of the errors are more critical. Several Killing Lincoln critics commented on the characterization of conspirator Mary Surratt. "Mary Surratt was never shackled or hooded at any time. She was never imprisoned aboard the Montauk," says Steers. "None of this is true."
All of this was too much for Rae Emerson, the deputy superintendent of Ford's Theatre National Historic Site, who commissioned a historical review of the tome. The result was a recommendation that the book not be sold at Ford Theatre's store.