Exclusive
Barbara Walters Angry Over Lindsay Lohan's Jay Leno Interview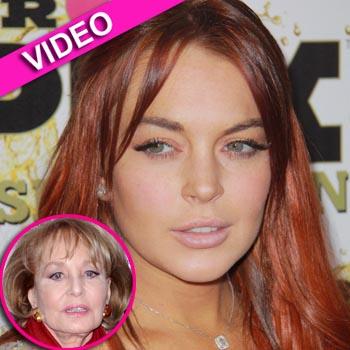 An irritated Barbara Walters sounded off on Monday's edition of The View, upset that Lindsay Lohan had canceled their scheduled 20/20 interview because she wasn't feeling "up to it" … only to resurface immediately to face the hard-hitting journalism Jay Leno.
Walters said that in initially learning Lindsay had canceled, she felt bad for the Liz & Dick star because "she has a lot of problems and there's one more …
Article continues below advertisement
"So today I pick up the paper, the punchline is Lindsay is sitting for an interview with Jay Leno!" she said, making clear that the chat would have been more of a look at her new film Liz & Dick than an interrogation about her life in the fast lane.
Walters noted she was going out of her way to be politically correct because LiLo's new agency (Rogers & Cowan) and The View have a strong working relationship.
Walters said if the new reps "had said to me 'You know, Barbara, she isn't up to the kinds of questions that you might ask' although most of them were comparing her to Liz Taylor - child stars, aggressive mothers - it would have been a wonderful interview.
"If they had told me that, I wouldn't feel quite as disappointed as I do today."
As RadarOnline.com previously reported, an insider said that the actress would have definitely been on the hot seat had she sat down with Walters, as opposed to the softball, powder puff nature of a typical Leno interview.
Article continues below advertisement
"Barbara was going to ask her probing questions about her drug use, Dina Lohan's drug use, the intervention and Michael Lohan recording their phone call and the family's money issues," a source close to the situation exclusively told RadarOnline.com. "Barbara was going to try and get Lindsay to talk about all of the drama in her personal life, including the possible upcoming charges for lying to the cops after her car accident, and Lindsay isn't ready to talk about anything.