VIDEO: Lindsay Lohan Calls Jail A 'Wake-Up Call'; 'Pleads The Fifth' On Dad Michael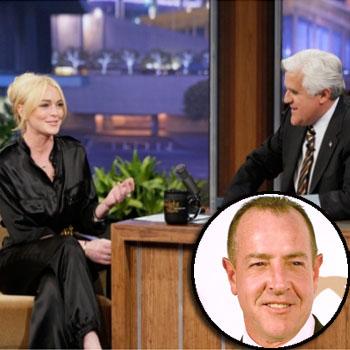 That's one way to get a standing ovation.
Lindsay Lohan received a warm welcome as she made a surprise visit to The Tonight Show on Tuesday, and while she opened up to host Jay Leno about her well-publicized legal troubles, there was one thing she wouldn't talk about -- her controversial father Michael.
The Mean Girls star, 24, first broke the ice by confirming her role in the upcoming film, Gotti: Three Generations, alongside John Travolta.
Article continues below advertisement
"I'm very excited to be working with the people I'll be working with," she said, noting that she actually met the real John Gotti when she was 3-years-old.
"That's bad, hanging out with John Gotti when you're three," Leno said. "That could be why you're in so much trouble!"
Then it got a little bit heavy: Leno asked Lohan about her string of legal troubles.
"I think being young and being in the position I was in, you don't really take the time to appreciate what you have, and it is all a kind of whirlwind and people make decisions for you," she told Leno. "But I am not a kid anymore. I am 24.
"I have made a lot of mistakes and I recognize that, but I am in the clear now and I feel like, as long as I stay focused, I will be able to achieve what I want to achieve."
Lohan last week was sentenced to 120 days in jail, in connection with a probation violation for taking a $2,5000 necklace from a Venice Beach jeweler. Her attorney Shawn Holley appealed the sentence, and LiLo was released on $75,000 bail five hours later.
Article continues below advertisement
While she stayed mum about the details of her current court issues, she said, "I'm a big girl and I'm gonna do what I'm told to do ... I think I was treated the way I should be treated."
She called her stint behind bars last week "an interesting experience" and "a wake-up call."
A Closer Look At The Self-Destruction Of Lindsay Lohan
Leno asked LiLo about her father Michael, prompting an uncomfortable silence.
"Am I supposed to respond?" Lindsay said. "I plead the fifth on that."
Lohan admitted she "let a lot of my fans down by putting myself in situations when I was young and wasn't thinking clearly.
"But as long as I stay focused, then I will be able to achieve what I want to achieve."
Asked where she wants to be by the time she turns 30, Lohan told Leno, "Hopefully sitting here after I've won an Oscar -- that would be ideal -- work, work, work!"