Exclusive
Lindsay Lohan's Morgue Duties Revealed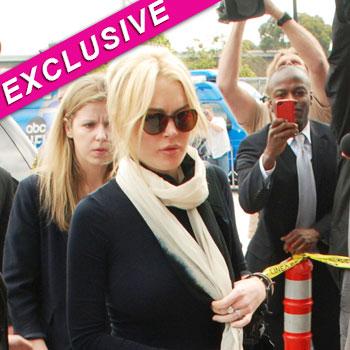 By Cliff Renfrew
RadarOnline.com Staff Reporter
She's surrounded herself with a few 'stiffs' in recent years but Lindsay Lohan WON'T have to clean-up any REAL dead bodies during her upcoming community service at Los Angeles County Morgue.
The troubled starlet - who was sentenced to 120 days in jail and 480 hours of community service by Judge Stephanie Sautner last week - is set to chalkup some time at the morgue.
Article continues below advertisement
A Closer Look At The Self-Destruction Of Lindsay Lohan
But a morgue insider reveled that the Mean Girls and Freaky Friday star will not be cleaning the crypts were the dead bodies are housed.
They revealed: "Her duties include cleaning and maintenance but she would not clean the actual crypts where the bodies are stored.
"Her day will begin at around 8am and she will be given one hour off for lunch before finishing her day at 4pm.
"The people doing the community service are usually split-up into groups of around five and they are supervised all the time.
"They are allowed to wear their own street clothes and do not have to wear state prison uniforms or anything like that.
"Generally, there are no problems with people that do community service at the morgue as long as they keep their heads down and just get on with their duties.
Article continues below advertisement
"Lindsay Lohan would be treated just like anyone else there would be no special treatment and she would have general janitorial style duties which would involve cleaning different areas and emptying trash stuff like that.
"It can be hard work but community service is not supposed to be easy, it's a punishment after all."
Lohan was released from Lynwood Correctional Facility on Friday evening after posting a $75,000 bond.
The 24-year-old spent about three hours behind bars after a Los Angeles judge decided she violated the conditions of her probation for a 2007 DUI conviction.
Lohan had appeared in court Friday morning for a hearing on her jewelry theft case. She won a victory at first, when the judge downgraded the charge from felony to misdemeanor. But the mere fact she was ordered to go to trial for the theft meant she had violated the terms of her probation.