Want To Be Friends With An Ayatollah? 'Hypocrytical' Khamenei Joins Facebook, Despite Iran's Strict Ban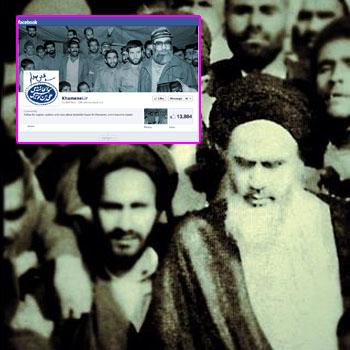 By Debbie Emery - RadarOnline.com Reporter
Iran's Ayatollah Ali Khamenei has been accused of gross hypocrisy after creating his own Facebook page, despite his oppressive regime's rigorously enforced ban on "decadent" social media sites.
But if anyone is hoping to find out who the Ayatollah's closest friends are, maybe learn about his "interests," get a chance to browse his fun vacation snaps or watch his favorite viral video hot from the streets of Tehran, they are likely to be sorely disappointed, encountering instead much more dry and somber content.
Article continues below advertisement
The devoutly religious, pious Supreme Leader had already begun keeping in touch with his followers and fans around the world via Twitter and Instagram, despite both also being banned in Iran, but now the seemingly tech savvy 73-year-old religious head is spreading his message wider, courtesy of Facebook, and has already racked up an impressive 19,458 "likes."
Joining the Western obsession of tweeting and Facebook status updates is an unexpected move for the Ayatollah, whose strict regime has deemed such websites decadent, branding them instances of the so-called "western soft war" conspired by the likes of the "Zionists," the Guardian.co.uk reports.
And the "gross hypocrisy" of doing so has not gone unnoticed by the lucky few in Iran who have the ability to (illegally) access un-censored international news reports.
One of the latest posts on the Supreme Leader's Facebook page is a YouTube video that features Hassan Nasrallah, the leader of the Lebanese militant group Hezbollah, and Khamenei, each separately commenting on the concept of the new Middle East.
Article continues below advertisement
While many of the thousands of comments below it are from devout followers, some cheeky visitors to the page have added their opinions such as, "So where are the women in your photos?" and: "Merry Christmas to you and all of your wives."
Access to more than 5 million websites is blocked in Iran and people who try to visit blocked addresses are redirected to a web page that reads: "Access to the website is denied according to Iran's computer crimes regulations."
One unfortunate blogger who dared to speak his mind about the human rights violations committed by the rulers of his country met a sinister end at the hands of Iran's cyber-police force known as the Fata, according to the Guardian.
When the group failed to silence Sattar Beheshti, 35, online, they reportedly dispatched members to his home, detaining him on charges he was acting against the best interests of national security by posting on Facebook. A week later his family received a phone call telling them to pick up his dead body.
Article continues below advertisement
"He went with them safe and sound standing on his own legs; we were then asked to buy a grave for his body," Beheshti's sister told a reporter as she sobbed recounting the ordeal her family had endured.
However, despite the accusations of hypocrisy, with Khamenei's office now active on Twitter and sending out more than 3,200 tweets in Farsi, English and Arabic, many are optimistically interpreting it as a green light to increase Internet activity, especially with the impending presidential elections in 2013. Mahmoud Ahmadinejad will step down in June as he is not able to run for President a third time under the constitution.
At the time of Iran's last presidential elections in 2009, social media became an essential tool across the country for campaigning, with many activists taking to Facebook and Twitter to advocate for their favorite candidate.
However, the newly enjoyed openness was soon stamped out following the election result, after people started going online to organize protests, and citizen journalism became a dangerous new threat to the regime.
Article continues below advertisement