Exclusive
Family Of Iranian-American Facing Death Penalty 'Are Making A Huge Mistake,' Says Former Political Prisoner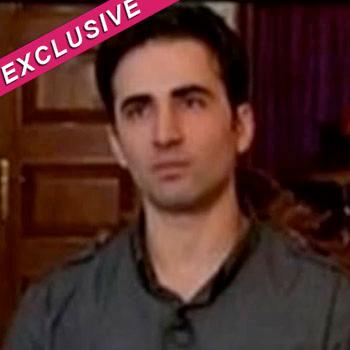 By Debbie Emery - RadarOnline.com Reporter
Iranian-American Amir Hekmati has been in prison in Iran since August 2011 but it has only been since Monday, when he was sentenced to death, that the world heard of his plight.
That five-month silence could affect whether the 28-year-old from Flint, Michigan lives or dies, RadarOnline.com has exclusively learned.
"His family is trying to understand the situation, but they made a huge mistake not to publicize the case at the time of his arrest," Iranian journalist Omid Memarian told RadarOnline.com in an exclusive interview. "If they had, this would not have happened at all."
Article continues below advertisement
As RadarOnline.com previously reported, American-born Hekmati was seized while visiting his family in Iran and accused by the government of spying for the CIA. After being coerced into making a confession, Amir became the first U.S citizen to be sentenced to death for espionage since the revolution in 1979.
Memarian, an Iranian citizen, is no stranger to life in a Tehran jail cell, as he himself was arrested for his activities as a journalist in 2004. He was accused of being a dissident and sent to Evin prison, where Amir is currently being held.
Growing up in Iran, Memarian at least knew how the justice system worked, but both Hekmati and his immediate family are very Americanized in their thinking.
"He went to Iran to learn Farsi and see his family. He was very naive, he has no idea of the politics and how it works," explained Memarian.
"When he applied for a passport he told them he was a former Marine and had worked for companies in Iraq and Afghanistan."
Article continues below advertisement
Such honest disclosure immediately made Hekmati a target to be used in political spy games. "The copy of those documents goes to the Ministry of Intelligence," he said.
"In all of these cases they charge them with the most extreme crimes, hold them in jail, force them to confess and then they send them to a revolutionary court."
Most often, the charges are ultimately dropped. Hekmati may be one day set free, however the unusual severity of the sentence against him could mean the worst.
"It is a very delicate situation, they have all the reasons to do something crazy and take it to the next level and even execute him and make an example of him," revealed Memarian.
"I really think that eventually they will let him leave Tehran, but they will probably keep him in jail longer than normal."
Instead of actively keeping the case under wraps, Hekmati's family should be drawing as much attention to it as possible, says Memarian.
Article continues below advertisement
"They got played by the Iranian government. They are still making mistakes and can't understand the mindset and logic of these people.
"None of it makes sense, it's not a logical, legal case. The main part of their strategy should be publicizing the case. They should be on TV all the time now but they are relying on a P.R. firm and a lawyer who have no power," he told RadarOnline.com.
"The government has started a game and they want to make it play out as big as possible."