Shahs of Sunset: It's All About Cash, Flash, Cristal, Gold, Cars & Houses With Big Columns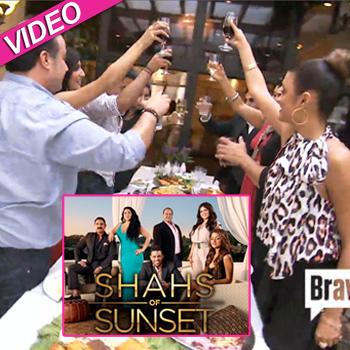 Ryan Seacrest has hailed his new reality show production, Shahs of Sunset as promoting "something I believe in, which is friendship and family" but judging by a trailer for Sunday night's premiere it's more about the cash than clan.
"It's all about cash, flash, Cristal, gold, cars, houses with big columns," proclaims one cast member. While another explains: "We don't work IN buildings, we own them."
Article continues below advertisement
"We come from a line of doctors and lawyers and businessmen and people who are making money," says another in a voiceover, and: "People expect you to do great things."
"To outsiders it probably looks like we live very glamorous lives," says one of the female cast off camera, "and in fact we do."
Watching the six stars cavort in swimwear around the jacuzzi, get embroiled in stand up knock down fights and flash the cash whenever and wherever possible, it's easy to see why the show is being hailed by many as the new Jersey Shore, but cast member Reza Farahan is quick to shoot down the comparison.
"We are much more sophisticated than Jersey Shore's cast," he told the Daily Beast. "We come from different backgrounds of lawyers and doctors. Those people on Jersey Shore are hooking up every night. They have a 'smoosh' room. They drink pickle juice. They have nothing. They are incredibly trashy. We are not like that."
The show follows a group of uber wealthy Persian immigrants living in Los Angeles and the six main cast members have said that they hope by sharing their lives with the public they will help change how Americans think about Iranians.