Say Goodbye To The Real Housewives, Say 'Salam' To The Shahs Of Sunset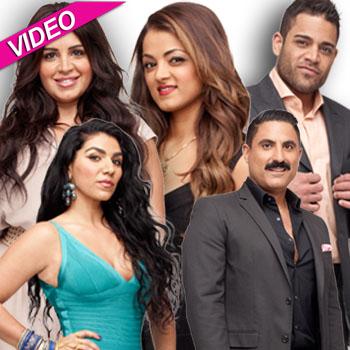 They're exotic, they love their bling and they are filthy, filthy rich!
Sounds like a cross between the Kardashians and the Real Housewives, but this up and coming group of reality stars is determined to do more than just become famous for being famous.
Ryan Seacrest's new show, The Shahs of Sunset follows a group of uber wealthy Persian immigrants living in Los Angeles and the six main cast members hope that by sharing their lives with the public they will help change how Americans think about Iranians.
Article continues below advertisement
Shahs of Sunset will follow the everyday lives of the 30-something "Persian socialites" who live around the famed Sunset Strip in Los Angeles, and the show is keen to focus on their good values rather than the usual drama and excess of other reality shows.
All the cast members are originally from Iran but now live in the U.S. and all attended Beverly Hills High School.
Here's a rundown of the cast.
Soltan Rahmati, 35, calls herself a "conceptual artist" and compares herself to Lady Gaga and M.I.A. When she was 8 years old her family fled war torn Iran for Berlin, Germany, before finally settling in L.A. when she was 15.
GG, 29, is an exotic beauty with a fiery temper who refers to herself as a Persian Princess and "a business girl and a daddy's girl." Fully supported by her wealthy father GG lunches with her friends by day and shops for her Persian Mr. Right by night.
Mike Shouhed, 33, is a member of the "Persian Real Estate Mafia." The reformed ladies man is desperate to meet the right girl to take home to his mother but finds old habits hard to break and can't help himself from charming every girl in sight.
Article continues below advertisement
Sammy Younai, 35, is keen to find the right Persian girl who will love him for his heart not his wallet, but spends most of his time on the prowl for his next fling. He is a residential developer in Beverly Hills specializing in building multi-million dollar homes especially for the Persian community.
Reza Farahan, 38, is a self proclaimed "anomaly" in that he is a gay Persian. He is a prominent player in the L.A. real estate world. Reza is an old fashioned guy at heart and is keen to live the American dream of finding his perfect partner, raising a family and enjoying a white picket fence happy ending.
Mercedes "MJ" Javid, is a mid-thirties real estate agent living in the Hollywood Hills. The renowned party girl often clashes with her overbearing mother, Vida, over her lifestyle choices and dress sense.
The show is being hailed by many as the new Jersey Shore, but Reza is quick to shoot down the comparison.
"We are much more sophisticated than Jersey Shore's cast," he told the Daily Beast. "We come from different backgrounds of lawyers and doctors. Those people on Jersey Shore are hooking up every night. They have a 'smoosh' room. They drink pickle juice. They have nothing. They are incredibly trashy. We are not like that."
Article continues below advertisement
Meanwhile, GG is unabashed about the show's potential to change racial stereotypes, telling the Daily Beast: "Do I think people will see us in a different light? Yes, I do. We are not terrorists. Our money isn't from oil. We're not related to Saddam Hussein or Osama bin Laden."
Shahs of Sunset premieres on March 11 on Bravo at 10 p.m.
To get your fix in the meantime, watch interviews with the cast memebers from the Daily Beast below: