19 Unmarked Graves Discovered At Shuttered Florida Reform School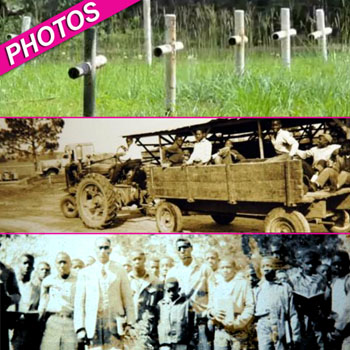 It's horror straight out of the mind of Stephen King - although sadly, none of this is fiction.
A new report from anthropology researchers at the University of South Florida reveals grisly discoveries on the grounds of the Arthur G. Dozier School for Boys, a shuttered state reform school. The report finds evidence of 98 deaths and at least 50 graves - 19 more than state authorities identified during an investigation of the grounds two years ago.
Article continues below advertisement
The grim discoveries were made on the 1,400-acre grounds of the school, which is about 60 miles west of Tallahassee, that was purportedly the flashpoint of beatings, rapes and murders dating back nearly a century.
In the report, released Monday, experts said they believe more gravesites linked to the school exist. The current death toll stands at two adult staffers and 98 kids, ages 6 to 18, and all believed to have died between 1914 through 1973.
"We anticipated finding about 25 to 30 grave shafts, but in fact we found a minimum of 50," researcher Christian Wells said.
In 2008, Former Florida Gov. Charlie Crist spearheaded the investigation in response to claims of abuse from ex-students who attended the school in the 1950s and 1960s.
In their 2010 look into the institution, Florida Department of Law Enforcement officials were unable to verify the causes of death, which Monday's report corroborated, although researchers noted diseases, fire and drowning had been documented in some of the cases. Other trends included deaths linked to newer students (less than three months at the school) and those who tried to escape.
Article continues below advertisement
There is "very little documentation about the history of the cemetery or who is buried there exists, and the exact locations of individual burials were never documented," the report said. The drought of info linked to the school body count has provoked "uncertainty, speculation, and folklore regarding these deaths."
Research methods used in Monday's report include archives, interviews with those linked to the school, remote sensing, soil chemistry, archaeological excavation and help from experts in germane fields.
Records past 1960 are inaccessible to researchers because of privacy laws. According to records, from 1914 until 1952, 45 people were buried on the grounds, 31 were sent elsewhere to be buried and 22 deaths went completely unaccounted for. Children who were black stood three times more likely to be buried in an unmarked grave than their white counterparts.
"I didn't realize going in how much of a story of civil rights it was," researcher Erin Kimmerle said of the findings.
Article continues below advertisement