Stephanie Seymour's 'Rich Kids Of Instagram' Son On Election Results, 'Kill Obama'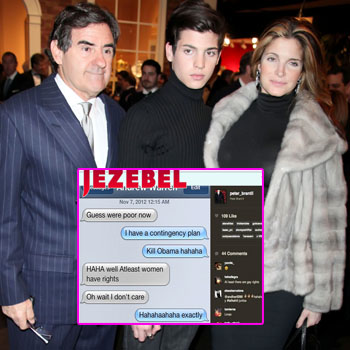 Article continues below advertisement
"Guess were sic poor now," Brandt's pal Andrew Warren texted him shortly after it was announced that President Barack Obama had been reelected for a second term, as first published by Jezebel.
"I have a contingency plan," Brandt responded. "Kill Obama hahaha."
"HAHA well Atleast sic women have rights. Oh wait I don't care," Warren responded, with Brandt in agreement.
"Hahahaahaha exactly."
Wednesday afternoon, Warren was apparently offended that people didn't have a sense of humor about their banter.
MORE ON:
Stephanie Seymour