Stephanie Seymour's Son On Smooch Scandal: 'It's Idiotic'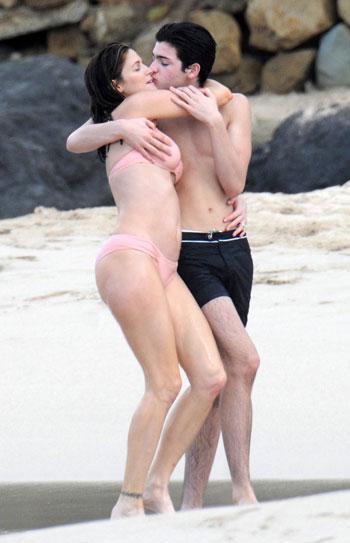 The eldest son of Stephanie Seymour and media mogul Peter Brant Sr. has again lashed out at those asking whether kissing his Supermodel mom was too-close-for-comfort or just motherly-love.
In a new posting on Facebook, Peter Brant Jr., 18, said he could not understand how the "scandal" had created headlines and continued to give his thumbs up to messages of support.
"I'm not sure how this is front page news... There's nothing you can do in this situation but laugh," he wrote online.
Article continues below advertisement
"Seriously aren't there more important things going on in the world? I just think this whole "scandal" is idiotic.
"I appreciate everyone's support on the media issue and I hope that soon all the online pandemonium will die down and we can focus on more important things... like Paris Fashion Week."
Peter is a high school senior and aspiring fashionista.
He was photographed days ago in an embrace with his mother that appeared oddly inappropriate, hugging and kissing on a beach in St. Barts.
In one photograph, Brant Jr. appeared to be kissing Seymour on the mouth and brushing his hand over her breast.
In another Facebook diatribe, he said: "Some people are just so pathetic they would rather gossip about other peoples personal lives than think about their own... The thing is that this "story" is based on very little substance and now that 5 minutes played out in a series of photos is stirring this much media attention really says something about the people who wrote these articles and those who choose to judge people they have never met based on them."