Stephanie Seymour's Son On Strangely Intimate Photos With Mom: 'I'm Gay!'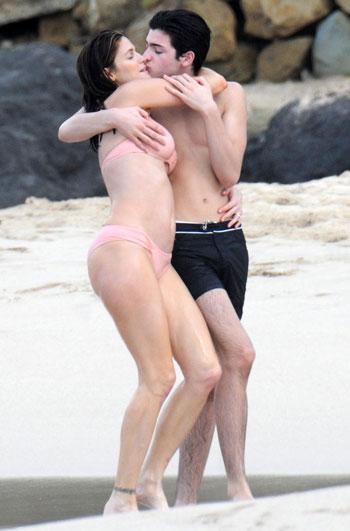 These photos defied the cliché of being worth a thousand words because they left most people speechless.
Stephanie Seymour and her son Peter Brant II were photographed days ago in an embrace that appeared oddly inappropriate, looking – to some – more like lovers than anything else.
Now Peter has released a public statement explaining the photos including revealing that he's gay.
Peter released this statement: "I would just like to say that these pictures have been taken completely out of context, my mother and I are very close as she is with all her children. She often hugs and kisses me and my siblings in an manner that is intimate, any mother in the world does the same. That day on the beach we walked around with each other completely aware of the presence of photographers there. We have nothing to hide and with that in mind I would like to say that I am openly gay. At my age my mother and I are almost like friends and I feel open to talk to her about anything (and yes our relationship may be different because of my sexuality)."
Article continues below advertisement
As for the various writers who crossed the line commenting about the photos, Peter told Gawker" We learn to accept that these photos may appear in the media but we do not appreciate speculation on our personal lives and any other hateful uninhibited opinions."
Peter is a high school senior and has received support – and some comments that are less than supportive – on his Facebook page.
RELATED STORIES:
MORE ON:
Stephanie Seymour