Exclusive
Not Bad For A 78-Year-Old! Sophia Loren Looks Amazing (Thanks To An Estimated $50,000 Of Plastic Surgery!)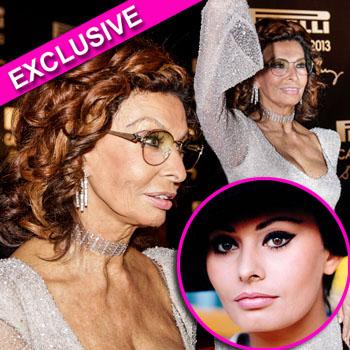 By Debbie Emery - RadarOnline.com Reporter
Sophia Loren is certainly a glamorous grandma!
But, not without more than a little help, as one plastic surgeon tells RadarOnline.com exclusively that he estimates that the 78-year-old film legend has undergone at least $50,000 of procedures!
"Sophia Loren looks amazing!" celebrity surgeon Dr. Anthony Youn, who has not treated the actress, tells RadarOnline.com. "I've never seen a 78-year-old woman look like her. Is it good genes that keep her looking so young? I strongly doubt that! I believe that she's had at least $50,000 worth of plastic surgery to keep her looking so good.
Article continues below advertisement
"Her jaw-line is unnaturally sharp for a near-octogenarian. This is the possible result of a well-performed facelift or two. Although her lips are plump, she doesn't sport a trout pout like some of her contemporaries. I suspect that she's had injections of a filler like Juvederm.
"It also appears that she might have undergone an upper and lower eyelid lift, to keep her eyelids refreshed-looking. Fat injections to her cheeks may have prevented her from getting the sunken look of many women her age. Laser treatments and chemical peels may also play a part in her smooth skin, in addition to some possible Botox in her forehead.
"And it's not just her face that I believe has had some work. I also think she may sport a pair of breast implants to help keep her ample-chested as she nears the twilight of her years. Because they last approximately 20 years, it's possible that she's had more than one pair.
"Overall, the film legend is keeping up really well. She certainly doesn't look like my Grandma!"
For more scoop on celebrity plastic surgery, visit Dr. Youn's blog at CelebCosmeticSurgery.com, and pick up his eye-opening memoir, In Stitches, which is available on Amazon.com.