Exclusive
Cops & Social Workers Do Welfare Check On Kendall & Kylie Jenner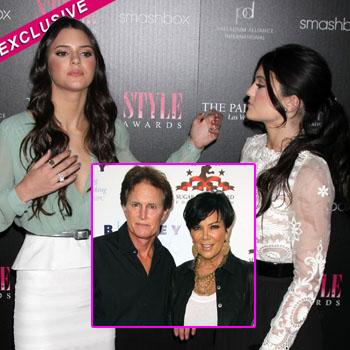 Article continues below advertisement
"Social workers met with the girls individually and determined that they were fine but out of an abundance of caution, cops and social workers will be making another visit to the house Monday afternoon before they officially close the case. Under California law, anytime a call is made to DCFS alleging that a minor is in danger, whether of physical or emotional abuse, it must be investigated."
As RadarOnline.com previously reported, Kendall Jenner is fast-becoming the poster child for bad driving.
The Keeping Up With The Kardashians star has taken a number of photos from behind the wheel of her $90,000 Range Rover – in ANOTHER illegal move from the reckless 16-year-old.
In one photo, Kendall chooses to poke fun at her younger sibling Kylie, 15, posting an image of a car in front of her stuck in traffic with a novelty license plate. The caption reads: "Kylie's future license plate."
An eyewitness spotted the aspiring model driving irresponsibly on a L.A. freeway, showing a total disregard for California traffic laws by texting on her cell phone.
Article continues below advertisement
"I was driving on the 405 freeway in the Calabasas area when I saw her Range Rover next to me in the other lane," an eyewitness previously told RadarOnline.com. "It actually made me look over because I noticed the car was dangerously drifting towards my lane.
"When I glanced through my car window, I saw that Kendall Jenner was driving the other vehicle, but she wasn't looking at the road, her eyes were fixed on her cell phone!
"In fear she would crash into me, I sounded my horn and Kendall looked across, but she appeared unfazed. I made some signals to her to get off the phone, but she just sped off."
Sources close to the family tell RadarOnline.com, "Kris and Bruce were obviously upset that someone said their girls were in danger, because it's just not true. Bruce and Kris cooperated fully with social workers and the police. They have nothing to hide, and understand that the authorities are just doing their jobs."
Article continues below advertisement
Kendall Jenner will turn 17 on November 3, and both girls dropped out of their swanky private school so they can be home schooled so they can actively pursue their modeling careers.
The Jenner family rep released this statement to RadarOnline.com about the situation: "Amongst the several ridiculous accusations all of which were proven to be false this situation cannot go without being addressed. It's a shame that anyone can make up such hurtful and hideous untruths especially when children are involved. We are taking this matter very seriously and investigating to find out who is responsible for fabricating such a terrible story and will take the necessary legal action to ensure this does not happen again."