Keep Your Eyes On The Road! Kendall Jenner Snaps Photos With Cell Phone While Driving!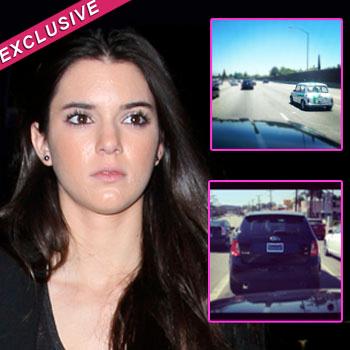 By Jon Boon - RadarOnline.com Reporter
Kendall Jenner is fast-becoming the poster child for bad driving, as these pictures recently posted on her Instagram account show.
The Keeping Up With The Kardashians star has taken a number of photos, one as recent as two days ago, behind the wheel of her $90,000 Range Rover – in ANOTHER illegal move from the reckless 16-year-old.
In one photo, Kendall chooses to poke fun at her younger sibling Kylie, 15, posting an image of a car in front of her stuck in traffic with a novelty license plate. The caption reads: "Kylie's future license plate."
Article continues below advertisement
Another, titled "rollin with a rolleyyy," shows the reality TV teen flashing an expensive Rolex watch with her hand on the wheel and her eyes clearly not on the road. What's more worrying is she's going through traffic lights at nearly 45mph!
And as well as the various photos she's taken of herself posing for the camera in her expensive SUV – Kendall's also found time to shoot another commuter's car while driving on a busy Los Angeles freeway!
Her care-free attitude on the road is enough to drive other drivers crazy and worse still, could cause an accident.
As RadarOnline.com previously reported, an eyewitness spotted the aspiring model driving irresponsibly on a L.A. freeway, showing a total disregard for the Californian traffic laws by texting on her cell phone.
"I was driving on the 405 freeway in the Calabasas area when I saw her Range Rover next to me in the other lane," the eyewitness told RadarOnline.com. "It actually made me look over because I noticed the car was dangerously drifting towards my lane.
Article continues below advertisement
"When I glanced through my car window, I saw that Kendall Jenner was driving the other vehicle, but she wasn't looking at the road, her eyes were fixed on her cell phone!
"In fear she would crash into me, I sounded my horn and Kendall looked across, but she appeared unfazed. I made some signals to her to get off the phone, but she just sped off.
"Just a few minutes later, I caught up with Kendall on the freeway. As I looked across once more, I could see she was still texting!