Plastic Surgery Disasters? 10 Celebs With Terrible Trout Pouts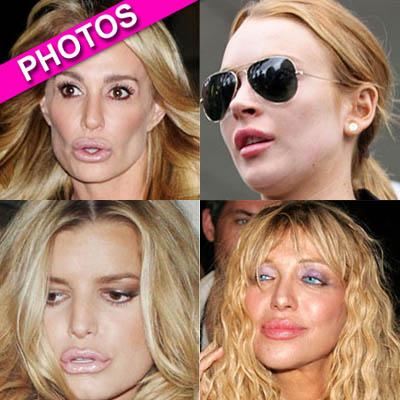 How lippy is too lippy?
Stars like Angelina Jolie and Scarlett Johansson were blessed at birth with full, kissable lips, but not all celebrities are quite as content with their god-given smackers. RadarOnline.com has photos of 10 stars who are rumored to have turned to unnatural methods to enhance their lips, resulting in terrible trout pouts.
Lindsay Lohan has gotten a lot lippier over the years! A fresh-faced actress on the rise in 2004, the Mean Girls star, who got herself entangled in trouble with the law, looks noticeably different than she did in her youth, which many experts believe hasn't been a natural evolution.
Article continues below advertisement
Not-so-Sweet Kisses! Jessica Simpson is one of the few stars to cop to getting their pucker enhanced. The pop star, who touted a massive trout pout in 2008, admitted that enlarging her lips was a huge mistake.
Melanie Griffith was a sweet faced and thin-lipped teen in 1976. The Working Girl star, who has admitted to getting injections in her lips, should think about going for a more natural sized smacker!