Exclusive
Seems Those Sex Scenes Are Going To Be Even More Real! Shia LaBeouf Dating Teenage Nymphomaniac Co-Star!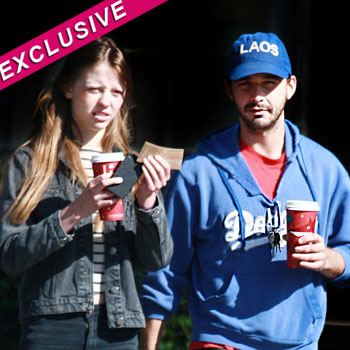 By Jon Boon - RadarOnline.com Reporter
Well Shia LaBeouf didn't waste any time!
The Lawless star may have only just split from girlfriend of two-years Karolyn Pho, but he's already "romancing" his Nymphomaniac co-star Mia Goth, RadarOnline.com is exclusively reporting.
LaBeouf, 26, even met 19-year-old Goth's parents in London recently while they were shooting the controversial Lars Von Trier movie.
"They've kept their relationship under wraps, but they pretty much started dating after he broke off things with Karolyn a few months ago," a source told RadarOnline.com.
Article continues below advertisement
"Shia and Karolyn had a volatile relationship and it came to a head just before he began filming Nymphomaniac.
"He got to know Mia on set and quickly became enamored of her. They have similar interests, they love alternative music, thrift stores and she is edgy and funny, which Shia loves.
"While they obviously don't want to rush into things, Shia has already met Mia's parents in London, which is where she is from.
"They're already spending a lot of time together, not just with work, but also have been hitting the town. Mia has made Shia very happy and he's certainly found a party buddy for the time being," the source divulged.
As RadarOnline.com previously reported, Shia's method acting put a strain on his relationship with Pho. She was especially peeved that he didn't baulk at the live sex scenes Von Trier had asked him to do for Nymphomaniac.
Article continues below advertisement
"They've been on the rocks ever since Shia agreed to star in Nymphomaniac," a source close to the couple revealed.
"Karolyn gets that Shia likes to go method and appreciates his artistic integrity. However, she thinks performing a real sex scene in a movie is going too far.
"It's difficult for her to understand why it can't be simulated – just like in other films.
"She wants him to do the film, because Shia was desperate to work with Lars – he's such a hero of his. And she doesn't mind if he strips off completely – she had no qualms about the Sigur Ros music video.