Shia LaBeouf Explains Split From Carey Mulligan 'She Was Chasing Marriage'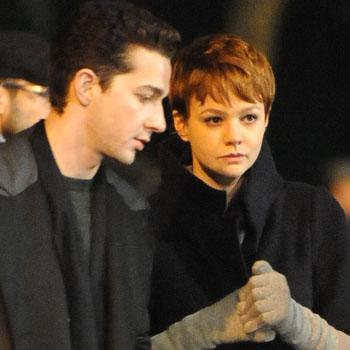 Transformers actor Shia LaBeouf is opening up about the reason he split from girlfriend Carey Mulligan two years ago, blaming "incompatible lifestyles" RadarOnline.com is reporting.
The co-stars of Wall Street: Money Never Sleeps dated for around a year until they split in October of 2010, something LaBeouf blames on Mulligan's desire to marry and have children.
Both Shia and Carey have since moved on -- he is now with Fashion Designer Karolyn Pho and she with Marcus Mumford, of Grammy award winning Mumford and Sons fame.
Article continues below advertisement
Carey's dreams of marriage came true in April of this year, after the 27-year-old married her musician beau on a farm in Somerset clad in a Versace gown, with celebrity guests including Colin Firth and Adele.
"She's happy as hell right now and we wouldn't have been able to make it like that," LaBeouf told the Sunday Times magazine. "She was chasing marriage, family, kids more than I was.
"Carey is not just an actress, she is a great human being, a sweet girl and super intelligent. Our thing came down to not having compatible work/lifestyles.
"We were always traveling and had sensibility differences that weren't conducive to living with one another.
"I'm harder on myself and my surroundings than she is and we had a culture shock in terms of meeting her parents and vice versa."
Meanwhile, Shia's current squeeze shouldn't cross her fingers hoping for an engagement anytime soon, as the 26-year-old goes on to say: "I'm not opposed to marriage. I just think I'm quite young. I come from divorce. I'm only doing marriage once. It's not a game for me. I'm not a religious person, but I have ethics.''