Shia LaBeouf Laughs Off Naughty Nymphomaniac Questions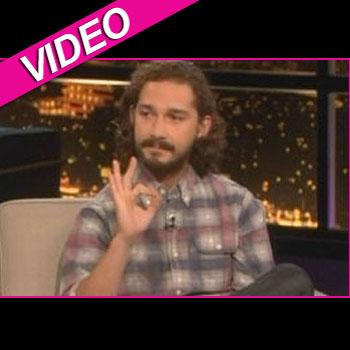 Shia LaBeouf laughed off, but didn't deny, Chelsea Handler's questions about rumors he's contracted to perform in a live sex scene for Danish filmmaker Lars von Trier's upcoming production, Nymphomaniac.
"Where are we going Chelsea, what's the deal?" the spirited 26-year-old joked.
"I read somewhere that you're gonna have to have real sex on this movie sex on camera, which I think happens on a lot of movie sets," Handler told him.
Article continues below advertisement
Watch the video on RadarOnline.com
"I don't know what it's gonna be…I will when I get out there, I know Lars is a very dangerous director," Shia said. "I know we're trying to do something different."
Asked if he had to audition for von Trier, Shia joked, "I sent videotapes to him of me and my girlfriend having sex and that's how I got the job!"
As we previously reported, LaBeouf, who showed full-frontal nudity in a music video for director Alma Har'el earlier this year, is getting grief from girlfriend Karolyn Pho about the role.
Article continues below advertisement
The actor opens up about his cozy road trip with a "Lawless" costar. Plus, is he willing to share on his new film "The Nymphomaniac?"
@font-face {
font-family: "DIN Web Condensed";
src: url('http://www.eonline.com/resources/fonts/DINWeb-Cond.eot');
src: local("?"),
url('http://www.eonline.com/resources/fonts/DINWeb-Cond.eot?#iefix') format("embedded-opentype"),
url('http://www.eonline.com/resources/fonts/DINWeb-Cond.woff') format("woff");
}
#e-online-video-wrapper {background-color: #000000;}
#e-online-video-wrapper embed {display:none;}
#e-online-video-wrapper video {display:none;}
#e-online-video-wrapper #link {display:block;position:relative;}
#e-online-video-wrapper #link .overlay {cursor:pointer;position:absolute;z-index:3;}
#e-online-video-wrapper #link:hover .overlay {border:3px solid #FF0000;}
Article continues below advertisement
#e-online-video-wrapper #link #video-thumbnail {display:block;}
#e-online-video-wrapper #link .play-btn {background:url("https://images.eonline.com/static/uberblog/images/play-btn.png") no-repeat scroll 0 0 transparent;height:56px;position:absolute;width:56px;}
#e-online-video-wrapper #link:hover .play-btn {background:url("https://images.eonline.com/static/uberblog/images/play-btn-over.png") no-repeat scroll 0 0 transparent;}
#e-online-video-wrapper .title {display:block;color: #FFFFFF;font-family: "Din Web Condensed",Arial,Sans-Serif;font-size:36px;font-weight:normal;line-height:1;margin:0px 0px 0px 0px;padding:10px 0px 5px 10px;text-transform:none;width:510px;}
#e-online-video-wrapper .description {color:#FFFFFF;font-family:"DIN Web Condensed",Arial,Sans-Serif;line-height:19px;display:block;font-size:15pt;margin-top:0;padding:10px 10px 10px 10px;position:relative;}