America Has Spoken! Best Mainstream Movie Love Scene Awards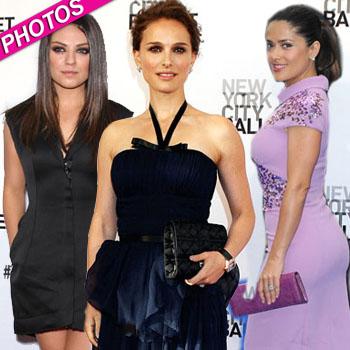 Natalie Portman and Mila Kunis' sultry exchange between the sheets in Black Swan is the sexiest mainstream love scene, according to a new poll conducted by XXX site Pornhub.
"It was really crazy, because Mila and I were very good friends," the Oscar-winning Natalie told MTV of the steamy exchange. "It was pretty awkward. I almost feel like it would be easier to do it with someone you didn't know.
Article continues below advertisement
"But, having said that, it was great to have a friend there who, we could laugh and make jokes and get over it together."
Kunis said of the exchange: "You never judge your character, so you always have justification for it … when you do it, it makes sense while you're doing it. You don't feel like it's you doing it."
Other hot exchanges that registered with users of the adult-geared website: Halle Berry and Billy Bob Thornton in Monster's Ball (17 percent); Antonio Banderas and Angelina Jolie in Original Sin (16 percent); Denise Richards and Neve Campbell in Wild Things (12 percent); and Banderas (again) and Salma Hayek in Desperado (7 percent).
Sister Wives Kody Brown: None Of My Wives Can Satisfy ALL Of My Needs
SYTYCD Judge Mary Murphy's Shocking Cocaine & Sex Scandal