Exclusive
Shia LaBeouf's Relationship With Karolyn Pho Strained Because Of 'Method' Acting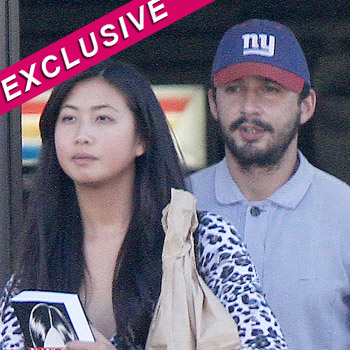 Article continues below advertisement
Shia has confirmed that he is expected to perform a real sex scene in the flick with one of his co-stars and Karolyn isn't happy with it.
"They've been on the rocks ever since Shia agreed to star in Nymphomaniac," a source close to the couple revealed.
"Karolyn gets that Shia likes to go method and appreciates his artistic integrity. However, she thinks performing a real sex scene in a movie is going too far.
"It's difficult for her to understand why it can't be simulated – just like in other films.
"She wants him to do the film, because Shia was desperate to work with Lars – he's such a hero of his. And she doesn't mind if he strips off completely – she had no qualms about the Sigur Ros music video.
"But Karolyn doesn't want him having sex with somebody else – simple. She's begged Shia to ask Lars if it's possible to make the scenes appear real, rather than shoot them real," the source revealed.
Article continues below advertisement
Just a few weeks ago, Shia told MTV that he is willing to do whatever von Trier asks of him and won't balk at performing real sexual acts on screen.
"There's a disclaimer at the top of the script that basically says, 'We're doing it for real,'" LaBeouf revealed.
"Anything that is 'illegal' will be shot in blurred images. But other than that, everything is happening….It's going to be a wild movie, man. It's going to be a wild movie."
And in a new interview, Shia told USA Today that he got drunk on moonshine while filming his latest movie Lawless – just because his character did the same. He then claimed he took "method" further by dropping acid to prepare for a scene where his character trips in Necessary Death!
"There's a way to do an acid trip like Harold & Kumar, and there's a way to be on acid," the Transformers star explained.