Jake Gyllenhaal & Carey Mulligan: Making Sweet Music Together?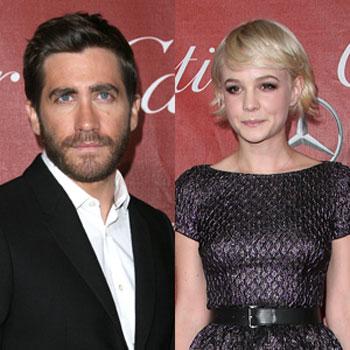 Just friends -- or are they making sweet music together?
Jake Gyllenhaal -- who recently split from Taylor Swift after a brief fling -- took British beauty Carey Mulligan to a concert this past weekend, RadarOnline.com is reporting.
The hunky Brokeback Mountain star, 30 -- who has also dated Reese Witherspoon and Kirsten Dunst in the past -- took Mulligan, 25, to see the English folk rock band Mumford & Sons Saturday in Nashville, TN.
Article continues below advertisement
Once the concert was over, the pair headed to the City House restaurant for a meal together with the band, which is nominated for two Grammys this year.
As RadarOnline.com has previously reported, Mulligan recently split from her Wall Street: Money Never Sleeps co-star Shia LaBeouf in an acrimonious split.
RadarOnline.com revealed how LaBeouf was questioned by cops following a bar fight at the Mad Bull's Tavern on Saturday night in Sherman Oaks, California.
Mulligan and LaBeouf dated for almost a year, but it appears she may be ready to move on with somebody less wild.
But Gyllenhaal may want to watch what he says to the British star, who's getting rave reviews for her latest movie Never Let Me Go alongside Keira Knightley.
When it comes to relationships Mulligan said: "I say how I feel. I say things as I think them. I can be in a mood for half a day then say everything. I would never hold on to a feeling for years.
"It's better to be open most of the time. If you put something out there and it doesn't work, you can forget it and carry on."
RELATED STORIES: