Exclusive
Shia LaBeouf Still Committed To Live Sex Scenes In The Nymphomaniac, Unlike Nicole Kidman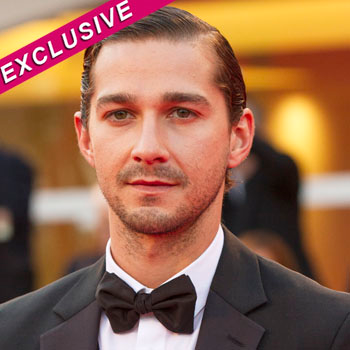 Article continues below advertisement
But one person who won't be watching is Shia's girlfriend, Karolyn Pho who, not surprisingly, doesn't want to see her man romping with another woman on screen.
"Shia has no intention of pulling out of this project, he's already fully committed," a source revealed.
"Working with Lars has opened his eyes to a new way of working and he loves the director's artistic integrity. Each scene feels very real and Shia believes it's only improving his acting talents.
"His decision to work on The Nymphomaniac infuriated Karolyn but he managed to convince her that it was all in a days work.
"One thing's for sure, Karolyn does not want to see Shia having real sex with another woman, so she will be avoiding this movie," the source said.
As RadarOnline.com previously reported, Shia's volatile romance with Karolyn, an up-and-coming designer, was far from rosy after he accepted Von Trier's invitation to star in The Nymphomaniac.
Article continues below advertisement
"They've been on the rocks ever since Shia agreed to star in Nymphomaniac," a source close to the couple revealed.
"Karolyn gets that Shia likes to go method and appreciates his artistic integrity. However, she thinks performing a real sex scene in a movie is going too far.
"It's difficult for her to understand why it can't be simulated – just like in other films.
"She wants him to do the film, because Shia was desperate to work with Lars – he's such a hero of his. And she doesn't mind if he strips off completely – she had no qualms about the Sigur Ros music video.
"But Karolyn doesn't want him having sex with somebody else – simple. She's begged Shia to ask Lars if it's possible to make the scenes appear real, rather than shoot them real," the source revealed.
Back in August, Shia told MTV that he is willing to do whatever von Trier asks of him and won't balk at performing real sexual acts on screen.
"There's a disclaimer at the top of the script that basically says, 'We're doing it for real,'" LaBeouf revealed.
"Anything that is 'illegal' will be shot in blurred images. But other than that, everything is happening…It's going to be a wild movie, man. It's going to be a wild movie."
RELATED STORIES:
Shia LaBeouf Explains Split From Carey Mulligan 'She Was Chasing Marriage'
Shia LaBeouf Laughs Off Naughty Nymphomaniac Questions
Shia LaBeouf's Relationship With Karolyn Pho Strained Because Of 'Method' Acting